Innovative Digital eMprint Delivers Breaking News
Nieman Reports Uses eMprint to Get Stories to Journalists Quickly
Columbia, Mo. (Jan. 17, 2006) — With a federal court's decision on the public school teaching of intelligent design looming in mid-December, Nieman Reports Editor Melissa Ludtke knew that her upcoming issue of the quarterly journalism magazine, with a collection of articles about news coverage of the intelligent design debate, would not reach its worldwide audience of journalists before the judge issued his ruling.
Using an eMprint newsbook, however – a pioneering digital publishing platform – Ludtke was able to send a section of stories by e-mail to hundreds of journalists worldwide who are Nieman Fellow alumni.
Donald W. Reynolds Journalism Institute To Offer Ideas for Better Journalism

The success of eMprint is just the beginning of what the Donald W. Reynolds Journalism Institute hopes to accomplish in the field of journalism.

At the heart of the Institute will be a Futures Laboratory and a Technology Demonstration and Research Center. The Futures Laboratory will be a place where faculty, visiting professionals and scholars test and report on new approaches to journalism and advertising. Adjacent to the Futures Laboratory will be a Technology Demonstration and Research Center, where new media-related technologies will be tried out and demonstrated for media professionals.

All will happen within the unique scholarly and professional setting offered by the Missouri School of Journalism's real media outlets: KOMU-TV, the Columbia Missourian, Vox Magazine and others. There, trials and improvements of media products can be made in a true-test setting. Citizen input will help perfect new media techniques and technologies before they reach the market.

"It's troubling today to witness the lack of trust in journalism and the lack of vitality in the media business," said Pam Johnson, executive director of the Institute. "The Reynolds Institute hopes to energize industry and public partnerships that can work with our research and technology resources to find solutions and enable innovation."
"The day the decision came, the Nieman alums received this eMprint through e-mail," Ludtke said. "In a sense, we scooped our own magazine, in this case for a good reason."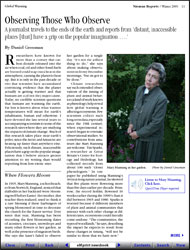 eMprint (electronic media print) is a revolutionary product that delivers print content with the speed and versatility of digital publishing. It was developed by Roger Fidler, director of technology initiatives at the new Donald W. Reynolds Journalism Institute. The Institute, located at the Missouri School of Journalism, focuses on technological advancement and citizen participation to improve journalism.
The eMprint newsbook that Nieman Fellows received on Dec. 20 contained a selection of re-formatted stories from the print version of the Winter 2005 Nieman Reports. Fidler, creator of the digital concept, was able to create the intelligent design newsbook in just a few hours.
"The techniques I've developed have made the production process more efficient," Fidler said. "The real strength of eMprint is in its ability to present complex documents with multiple sections and many stories in a digital format that is easy to read and easy to navigate on a computer screen."
Ludtke turned to eMprint primarily for its online reader-friendly format and because of the flexibility it offers her in deciding how to distribute the magazine's content.
"It's an easy way to read stories online," Ludtke said. "I am from a generation that usually prints everything out to read it. The eMprint offered a way to take a section of stories from the magazine and be able to read it online in a magazine format."
Those Nieman Fellows who downloaded the eMprint on intelligent design agreed with Ludtke.
"We had some very positive responses from people who received it," Ludtke said. "They were appreciative of how easy it was to use."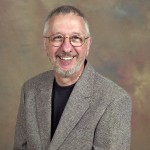 The newsbook for Nieman Reports is the newest example of eMprint's success. In March 2005, the Reynolds Journalism Institute conducted a 10-week field test of eMprint with the Columbia Missourian, the community's daily morning newspaper. More than 4,500 people participated in the test and indicated an overwhelmingly positive response. The Missourian now publishes original content in eMprint twice a week.
According to Fidler, working with the Nieman Foundation will be beneficial for the eMprint concept.
"It provides a way for people within the journalism community to be exposed to eMprint. Our goal is to make the eMprint format and technologies available to publishers worldwide," Fidler said.
eMprint has a unique appeal to major newspapers because of the availability of full-color advertising on every page. In a time when newspapers are struggling for both readers and advertising dollars, Fidler said that eMprint's reader-friendly and advertiser-friendly format could enhance the newspaper business model.
"We have a couple newspapers looking seriously at doing eMprint editions," Fidler said.
Recently, Fidler and Ludtke sent a second eMprint newsbook of articles to Nieman alums about global warming coverage that also appear in the winter Nieman Reports issue. This newsbook has multimedia capabilities with audio and video clips to enhance the reading experience.
"I have a lot of respect for what the Nieman Foundation does with its Nieman Reports," Fidler said. "They are a very valuable resource, and this project has not only been beneficial to us, but it gets more information out into the public."
For more information about publishing an eMprint newsbook, contact Roger Fidler at fidlerr@missouri.edu or at (573) 884-0175.
Updated: April 8, 2020
Related Stories
Expand All
Collapse All
---