Journalism School, RJI helps journalism industry during COVID-19 with webinars dealing with paywalls and revenue, staying safe and more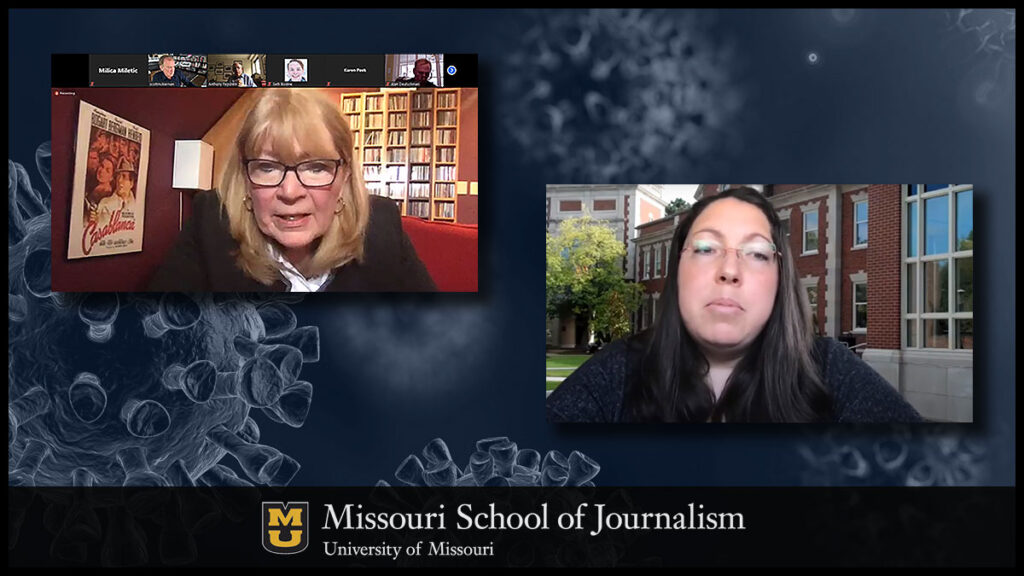 Webinars receive great response from public, some max out time with questions
By Jennifer Nelson
Columbia, Mo. (April 22, 2020) — With concerns flowing through news leaders' minds of how to keep a news business running in the midst of COVID-19 to how to keep journalists safe, some leaders from the Missouri School of Journalism and the School's Donald W. Reynolds Journalism Institute are tackling these topics via webinars.
They've recruited the help of journalists, health professionals, financial experts and others to answer questions and provide insight. They're keeping an eye on what topics are at the forefront of discussion, as well as their own expertise as they consider topics to cover during webinars.
Webinars have touched on paywalls and revenue, using data, staying safe, mental health, investments and other topics.
"Journalists are facing unprecedented challenges during COVID-19," said Kat Duncan, interim director of innovation at RJI who has organized several webinars. "We are trying to be a resource for them to ask questions and access experts to help them stay healthy, safe and produce great journalism for their communities."
On some of the webinars, they have partners with various organizations including the Investment Company Institute and Investigative Reporters and Editors to host the webinars.
Martha Steffens, Society for Advancing Business Editing and Writing endowed chair, and Duncan said webinars have received great response from the public. There were more questions than there was time for during the past two webinars that Duncan moderated, she said. Steffens' webinar on mental health gained an international audience – attracting media personnel from Africa, Europe and the United Kingdom.
Steffens has been teaching journalists – including virtually for years – particularly on financial and economic issues. She has traveled to more than 30 different countries to teach and has taught for the Society of Advancing Business Editing and Writing, the International Press Institute and others.
"When the virus hit, I knew that I needed to continue this online," she said.
Prior to coming to RJI, Duncan taught video journalism, mobile editing and photojournalism to newsrooms she worked for and consulted with.
Steffens said she is planning webinars on the subject of how various segments of the U.S. society will emerge from the economic crisis being caused by the pandemic, as well as one on the oil industry and one on the spread of disinformation during the pandemic. Watch for future webinars on sabew.org.
Duncan hopes to conduct future webinars on self-care and dealing with trauma. Previous recorded webinars are available on the RJI COVID-19 Webinars page.
Tips from our webinar leaders about teaching webinars
Use Zoom because it has a webinar tool that allows organizers to differentiate the roles of panelists and can prevent audio and video interruption from audience members. The tool also allows viewers to ask questions via a "chat" function.
"Pre-interview" your panelists, so you can ask good questions. Tell panelists to be concise with presentations so there is time for questions from the audience as well. Tell panelists not to read from a script, as they will go too fast for optimal comprehension.
Make sure you have a good internet connection, since you're subject to residential internet, which might be used by multiple family members.
Due to lags and other issues with audio, it's best to speak slowly and clearly.
Check your background. It will show and draw interest away from you. Try using the virtual "backgrounds" that come with Zoom, or creating one that words with your company branding.
Use uncomplicated PowerPoints when you share your screen. There are tools you can use to highlight or annotate charts and pictures.
Don't start exactly on time. Make sure you fill about four to five minutes with extra content, as sometimes it takes a while for everyone to get logged into the meeting.
Use safety protocols to keep your webinar from being hacked, such as waiting rooms.
About Donald W. Reynolds Journalism Institute
The Donald W. Reynolds Journalism Institute (RJI) works with the news industry, professors, students and others to make sure journalism has a long and bright future. As a "think-and-do" tank that opened its doors in 2008, RJI uses its guaranteed funding to work exclusively to strengthen journalism in the service of democracy. It's part of the Missouri School of Journalism.
Updated: November 11, 2020
Related Stories
Expand All
Collapse All
---