School of Journalism students gain hands-on experience covering pandemic, working remotely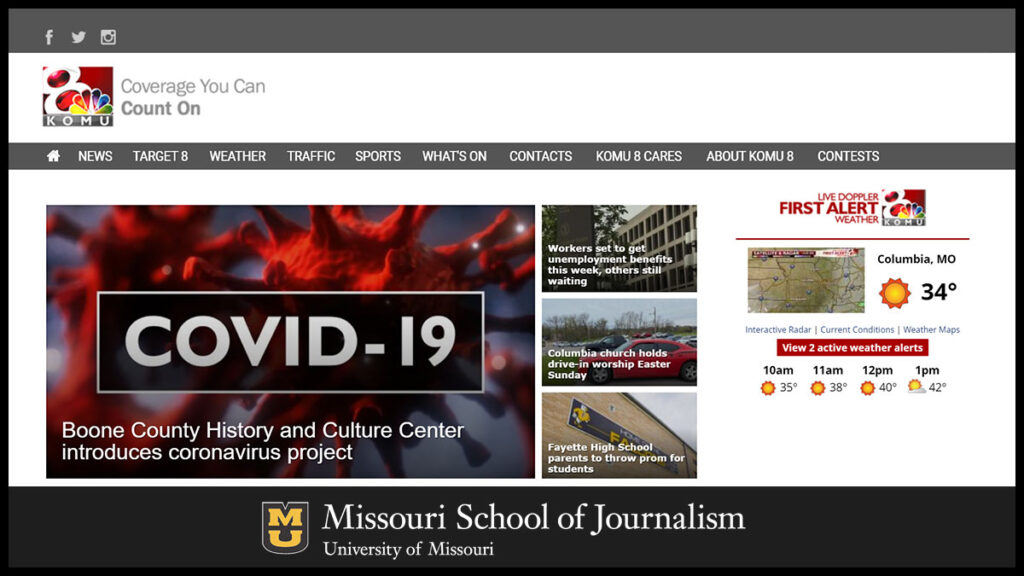 During the COVID-19 pandemic, student journalists at KOMU-TV, KBIA-FM and the Columbia Missourian are gaining a new type of hands-on training.
Missourian launches COVID-19 newsletter, KBIA launches live show to meet community needs
By Jennifer Nelson
Columbia, Mo. (April 15, 2020) — The young journalists at KOMU-TV, KBIA-FM and the Columbia Missourian are gaining a new type of hands-on training Missouri School of Journalism students who have gone before them never received: how to cover a pandemic, while also adjusting to working remotely and practicing social distancing.
The pandemic has forced students and their instructors to learn new things daily on a story that changes constantly. They are persisting as they are helping provide information on the area's social distancing measures, state and local press conferences, business updates, positive stories and other coronavirus related news, say newsroom leaders.
Here's a sneak peek of how three of our Missouri newsrooms continue to operate from the comfort of individual homes.
KOMU-TV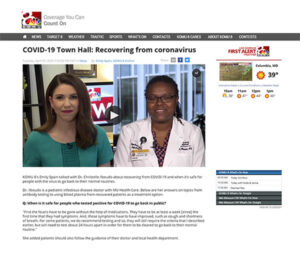 While many MU students returned to their hometowns when the University moved to remote learning and university housing closed, many KOMU-TV journalists remained in Columbia to continue reporting on the pandemic, said Steve Ackermann, news director of KOMU. As a working lab for students, many of KOMU's journalists are juniors and seniors who live in apartments off-campus, so they were better equipped to work remotely.
"I've been blown away by the number of students who've said, 'I'm here. What do you need me to do?'" said Ackermann.
The NBC-affiliate moved as many of its positions remotely as it could. For the jobs that required at least some time in the newsroom, newsroom leaders have been practicing social distancing, including using only one anchor for some broadcasts and making sure there's six feet between anchors when two anchors are required. Students have been encouraged to get creative when it comes to interviewing sources, whether it's video conferencing platforms or mics on a boom.
The pandemic and remote learning have required the young journalists to learn some new technologies. For instance, newsroom leaders instructed students to download an app only KOMU's Stormtracker staff had used in the past that would allow them to broadcast live from their phones, said Ackermann.
Faculty instructors have had to learn alongside students and this has included learning from others in the industry, said Ackermann.
"They're having to kind of teach on the fly," said Ackermann. "I guess what's been helping them teach on the fly has been paying attention to what the rest of the industry is doing."
Ackermann has also shared what he's learned with journalists through blog posts published by the Donald W. Reynolds Journalism Institute: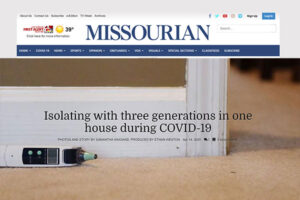 Columbia Missourian
Many Columbia Missourian reporters live off-campus, so they were able to start working remotely more easily. Others have been working remotely from their hometowns.
Thankfully, working remotely hasn't required the Missourian reporters to use much additional technology than they were already using. However, students are relying on using video conferencing platforms such as Zoom more than they have in the past.
Student reporters have been busy publishing as many as 40 stories a day, as well as producing photo galleries, interactive maps, glossaries and FAQs. The Missourian also launched a newsletter to compile all the COVID-19 related news in one place and include news from the Missourian and KOMU. The newsletter received an open rate as high as 50 percent at times. They've also created a landing page on the Missourian website for the COVID-19 coverage.
Students helped translate an educational flier about COVID-19 for Spanish-speaking consumers. The fliers were distributed to organizations that serve Spanish-speaking residents to display and share.
One of the biggest challenges for the newsrooms has been to teach the young journalists how to bring about the most up-to-date, reliable information on a story that constantly changes, while keeping everyone safe, said Ruby Bailey, executive editor.
But it has provided students an opportunity to work in a different work environment away from an editor, so students have to learn how to work more independently, said Bailey.
"What it has done hopefully is up our game in terms of having a digital-first workflow," said Bailey. "Our students are also getting in-depth training on how to report remotely, which can be a large part of the job. Working independently whether in the newsroom or across the country is a skill every reporter needs to learn."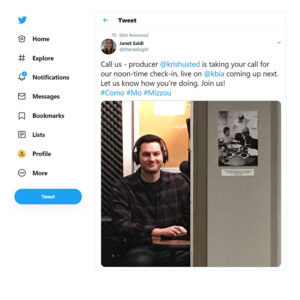 KBIA-FM
All of KBIA's work has moved remotely except for its noon live call-in talk show called "The Check-In" where two of the station's non-student staff go into the newsroom for an hour. The show allows locals to call in and talk to experts about COVID-19. It has received a positive response from the community bringing in more calls than KBIA can put on the air, said News Director Ryan Famuliner.
"It was rapidly put together as a response to the crisis – for community, connection and conversation over the airwaves," said Janet Saidi, show host and assistant news director.
They launched the show in March with the help of technical work from engineer Mark Johnson and content-based work from Saidi and student producers.
"A team of student producers have worked tirelessly with me, producer Kris Husted and Ryan to help us get fantastic, knowledgeable guests on the frontlines of this crisis, from ER doctors and other physicians and health officials, to historians, economists and big-thinkers helping us make sense of this crisis," said Saidi.
When it came to adjusting to working remotely, the most significant change has been workflow, said Famuliner. Fortunately, some good software available has allowed the students to do most of their recording remotely after receiving some light training.
Students file their newscasts remotely from their homes, which did require the station to help them connect remotely to the University's servers and equip them with soundproofing equipment.
"We've gone to great lengths to make sure that the students that work with us are still going to get the experience they came here for," said Famuliner. "We want to make sure they are prepared for careers in public radio or other audio production, and while there are some unavoidable differences in what the work looks like, they'll still be just as prepared as they would have been if this wasn't happening. Beyond that, they've had to learn some new technical skills, and really deconstruct the reporting process for themselves in ways that will pay off down the line."
Updated: November 11, 2020
Related Stories
Expand All
Collapse All
---