Missouri Journalism Students Tackle Learning Tennis Reporting in Foreign Culture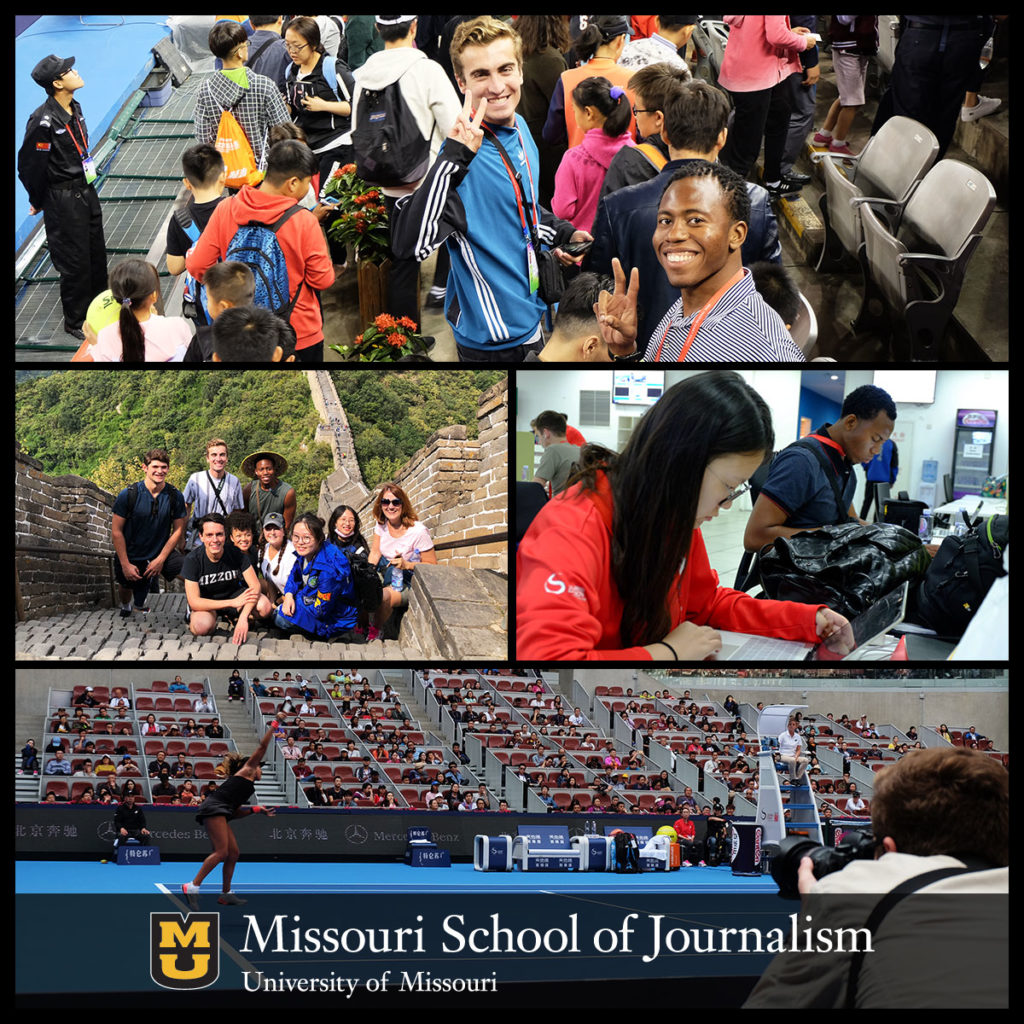 To help provide English-language coverage of the China Open tennis tournament, several Missouri School of Journalism students recently got well outside their comfort zone by traveling to Beijing and picking up tips from veteran journalists from around the world.
By Jennifer Nelson
Columbia, Mo. (Oct. 23, 2018)
Travel to China. Check!
Report on a major professional tennis tournament, hosting 300,000 people and broadcasting to 60 countries. Check!
Try my hand at sports reporting. Check!
Get out of my comfort zone to expand my skills. Check!
These are just some of the things Missouri School of Journalism senior Nnamdi Egwuonwu can now add to his resume.
Egwuonwu and six of his peers from the Missouri School of Journalism recently traveled to Beijing, China, to provide English coverage for the China Open tennis tournament as part of the Missouri School of Journalism's Global Programs.
Their coverage was published on the China Open website and social media channels. Throughout the tournament students worked full days covering matches and press conferences; conducting one-on-one interviews; reporting on social media and filing daily stories.
This was Egwuonwu's first experience covering tennis and reporting on a sports event. The Atlanta, Georgia, native says he learned quite a bit about tennis from an eight-week preparation course. This prep included watching and reporting remotely on the U.S. Open tennis tournament, as well as learning about Chinese culture. The learning continued as he watched the China Open matches in person.
"I found out that I have the skills to pick up on a new sport, to pick up on a new culture and to pick up on a new style of writing and just do it," he says.
In addition to their instructor Beth Pike, adjunct faculty at the journalism school, the students worked with a team of English-speaking Australian editors who have experience covering tennis.
Senior Channing Phillips of Oklahoma City says working with this team was especially helpful since they knew tennis well.
The young reporters also learned from veteran journalists from around the world who were covering the tournament. Listening to the questions they asked and how they asked them at press conferences helped Noah Higgins-Dunn further boost his interviewing skills, he says.
"In journalism you meet a lot of interesting people and a lot of high-status people," says the Kansas City native. "And that can be nerve-wracking sometimes. I feel ten times more confident to be able to write a story on somebody of high Missouri status because if I can ask [tennis player] Caroline Wozniacki about her injury in a press conference, then I can ask really just about anything now."
From day one, Pike, who led the students throughout the trip, says she could see the students grow and become more comfortable doing their jobs in another country where there were often language barriers.
"Seeing their growth was just rewarding for myself," says Pike. "Seeing them be successful and gaining confidence to cover a sports story in a foreign land, makes us look really wonderful."
The 2018 China Open is a tennis tournament played on outdoor hard courts. It is part of the Association of Tennis Professionals (ATP) World Tour 500 series, and the last Women's Tennis Association (WTA) Premier mandatory tournament of the 2018 WTA Tour. Both the men's and the women's events were held at the National Tennis Center in Beijing, China from Oct. 1 to Oct. 7, 2018.
Updated: November 5, 2020
Related Stories
Expand All
Collapse All
---