Association for Women in Sports Media Members Attend National Conference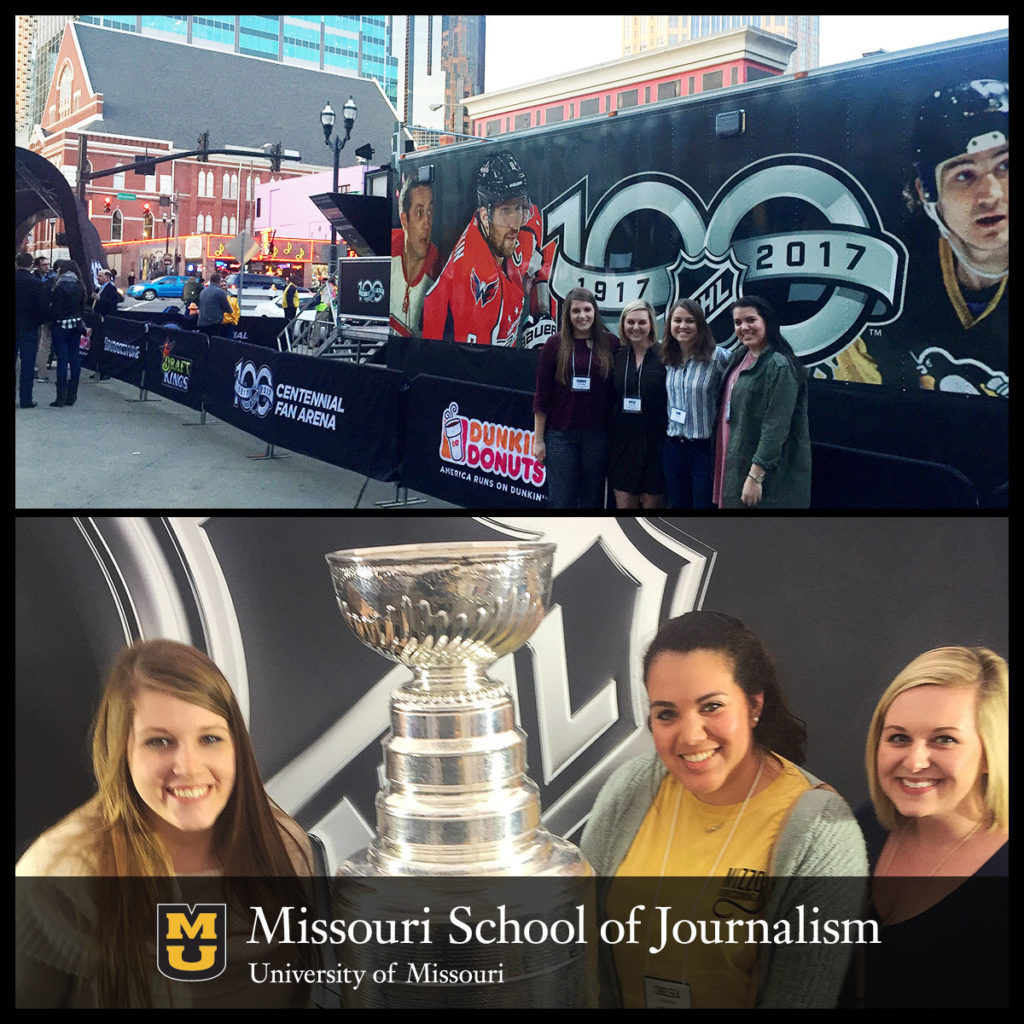 Top, from left: Mizzou students Hannah Husmann, Kylie Callura, Anne Rogers and Chelsea Roemer posing in front of the NHL 100 bus in downtown Nashville. Bottom, from left: Husmann, Roemer and Callura posing with the Stanley Cup after attending a Nashville Predators hockey game.
Students Network, Learn at College Media Training Camp in Nashville
By Yue Tang
Columbia, Mo. (Feb. 22, 2017) — The Missouri student chapter of the Association for Women in Sports Media (AWSM) recently attended 2017 College Media Training Camp at Bridgestone Arena in Nashville.
Seniors Hannah Husmann and Kylie Callura, junior Anne Rogers and freshman Chelsea Roemer attended panels and workshops led by industry professionals.
Throughout the College Media Training Camp, AWSM Missouri members joined the more than 200 other students in networking with professionals from ESPN, MLB Network, FOX Sports, USA Today Sports and many sports media properties.
The program offered tips on being a better writer, how to build a sportscast, how to create a resume reel and related topics. Speakers included Joe Gisondi, author of "The Field Guide to Covering Sports," and Clay Travis from Fox Sports. Participants attended the Nashville Predators hockey game at the conclusion of the program.
Founded in 1987, the Association for Women in Sports Media (AWSM) is a worldwide organization of more than 600 women and men (professional and student) employed in sports writing, editing, broadcast and production, public relations and sports information. The Missouri chapter was one of the first AWSM student chapters in the nation, and membership has grown rapidly since its founding in 2013. In 2015 AWSM Missouri was named the national winner of the third annual Student Chapter of the Year. Associate Professor Elizabeth Frogge serves as faculty adviser for AWSM Missouri.
Updated: October 13, 2020
Related Stories
Expand All
Collapse All
---