Mizzou Alumnus Vahe Gregorian, MA '88, Talks Sports Journalism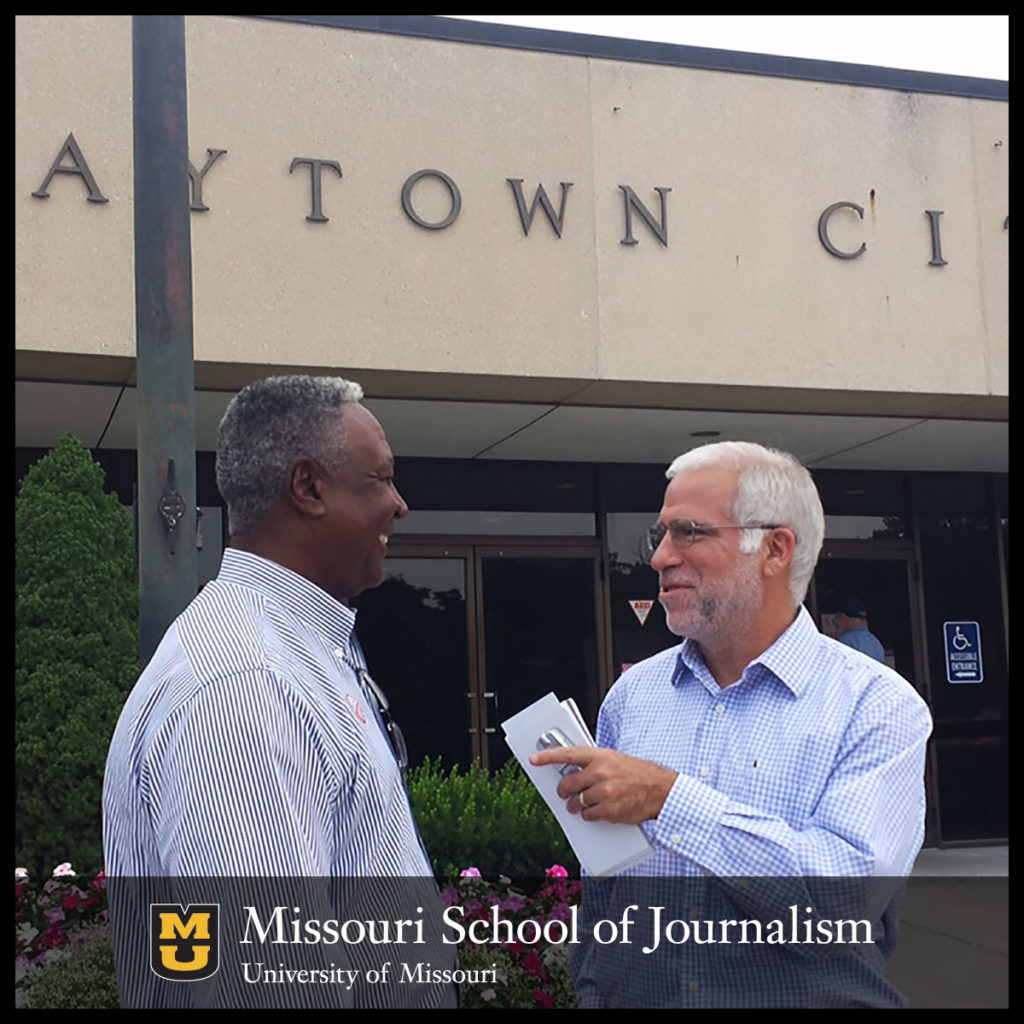 Columbia, Mo. (May 3, 2017) — Inside Sports recently interviewed Vahe Gregorian, MA '88, who writes about and reports on all-things-sports for The Kansas City Star. Gregorian previously worked at the St. Louis Post-Dispatch for 25 years.
In the photo, Gregorian, right, interviews former Kansas City Royal Frank White when he ran for the Jackson County Legislature in 2014.
Inside Sports: How did the Missouri School of Journalism prepare you for what you do now?
Vahe Gregorian: A family friend suggested the University of Missouri because of the rigorous training – that was her point in suggesting it. I applied to Missouri and Columbia for grad school, and I didn't get into Columbia. That was probably the best thing to ever happen to me for many reasons. Missouri was pretty hands-on, and working directly with faculty editors was perfect for me. I felt like everything I worked on was really getting critiqued in a way that was very meaningful. It was very practical, and I took it very seriously. Every aspect of that remains with me to this day. I remember expressions Dan Kelly, my sports editor at the Missourian, would use about eliminating cliches or even creating the cliches other people should want to use and thinking hard about what the lead of a story should be. And just a lot of fundamentals. It just got me excited about it. It felt like something I wanted to invest more and more in the longer I was there.
Inside Sports: What does it take to do your job as a columnist at The Kansas City Star?
Gregorian: It still, in a lot of ways, is a work in progress trying to figure out topics, voice and what works, if that makes sense, in terms of how you feel comfortable being yourself and what you hope connects with an audience. Those are things I wake up every day still thinking about: How can you get closer to finding your voice? I want to be critical and empathetic when each is called for, and I want to be able to present different perspectives just based on what I choose to write about. It's great to have the latitude to tell a lot of different types of stories, and, ultimately, I just want to try to be thought-provoking one way or another. That to me, in the end, becomes the measure of the job.
Inside Sports: What advice would you offer for aspiring sports journalist?
Gregorian: This is kind of obvious, but it is pretty important: Try to read voraciously both for understanding and being informed, but also to be conscious of different ways people write. What sort of things you see resonate for others. We are all some kind of blend of influences. I don't know that I could specifically tell you who influenced me most in terms of how I might try to write, but I know that my time at the Missourian and in school itself was crucial, and I could tell you 15 people I know I have learned from over the years and what strikes me in what they try to do. I don't think I can overstate how important it is to be broadly read – and not just about sports.
I also think you just need to realize there are so many potential stories right in front of you. They just have to occur to you. It is opening your mind up. Just realizing anything can be a story if you understand it the right way.
Inside Sports: Over the period of a week, what things do you typically do for your job?
Gregorian: This is part of the beauty of the job: Almost no week is ever the same. The cycle for me, in the fall, it really revolves around the Chiefs. The Royals also went deep into the fall in two of the last three years. Then suddenly you are into basketball, and then spring training. You kind of repeat the cycle.
There are some building blocks I am working around, but I am also always trying to find things that are different. Then sometimes different things find you. The last couple of months have been about the most unusual and complicated in my 30 years in the business. On Jan. 22, when [Kansas City Royals pitcher] Yordano Ventura died, I was on the plane the next morning for his funeral. Then, a week or two later, we decided to go back to the Dominican Republic for the next five days to work on something about the final year of his life. Then, all of a sudden, I was in this crazy situation where I went to Dayton for the NCAA tournament, from Dayton to Wakarusa, Indiana, for a story on Gale Sayers having dementia, and from Wakarusa to Tulsa for the NCAA tournament, then from Tulsa to Los Angeles for a story about Royals' pitcher Danny Duffy's upbringing in Lompoc, California. That is a different kind of eight or 10 days than I have ever had.
It keeps you fresh, but it also keeps you motivated. Every week is different. That is what I love about it. It is the sense of adventure, being able to do that. Whether it is the type of story you work on or the people you get to meet and the relationships you cultivate and enjoy over the years. All those are parts of it that keep me still enjoying the work at age 56.
Inside Sports: What is one thing you wish you knew as a student that you know now?
Gregorian: That is a great question. It might be that everything is going to turn out OK. I kind of wished I knew that. Maybe if I knew everything was going to turn out OK, I wouldn't have been so frantic when I was there. When I was in college, I worked hard, but there was something different in grad school. It was like, OK, this is what my life is going to be. I need to do everything I can do and get everything I can out of this. I was probably more worried about stuff than I needed to be. Then again, maybe worrying about stuff is what keeps you going.
Inside Sports: What is your favorite sports journalism memory?
Gregorian: A couple things stand out: The Olympics are its own surreal thing, out-of-body experiences. It is such a vast thing to explain. For simplicity sake, I will switch gears to covering the Royals in 2014 and 2015 when they went to the World Series after being so terrible for so long. There was just kind of a magic in the sense of what it did for the city and the way it connected with the audience.
I'm sure this reflects some kind of recency bias, but I also have to say this Ventura trip, that was an adventure unlike any other. We went into this trying to learn things about the last days of his life, how it came to his death in a car accident on a terrible road under mysterious circumstances. We had shovels in the ground before we left, but we had no real idea. It was four of five precarious days trying to figure things out. That was one of the greatest challenges I think I have ever dealt with. It was meaningful because it was unraveling kind of a mystery, but also just so sad. It still remains so sad. I think about Yordano Ventura a lot, even now.
Updated: October 20, 2020
Related Stories
Expand All
Collapse All
---