All the World's a Museum…and the Information May Be as Close as Your Cell Phone
By Kris Hilgedick
Jefferson City News Tribune
Used by permission.
Columbia, Mo. (May 5, 2010) — The idea arrived the way many ideas do: Clyde Bentley, a professor of journalism at the University of Missouri, was taking an outdoors stroll through a Columbia park.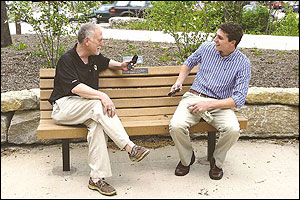 "It had just snowed on this remote bench, when I noted someone had left a fresh flower and a note saying, 'I miss you,'" he recalled. "How can you not be taken aback by that?" The moment helped Bentley understand something important about the little memorial plaques on the park's benches. "These aren't just signs; they are people," he realized.
Congenitally curious by nature, Bentley soon wondered: Who left the flower? Why? Who was the person on the plaque? What did they do with their lives? What happened to them?
The moment sparked an idea for a new research project into new uses for mobile phone technology. Called "Voices from the Past," the project allows users of Columbia's MKT Trail to explore the stories behind the names on the many memorial benches that line the trail.
Hikers and cyclists use their cell phones to call a special number (which they see on the bench) to hear radio-like stories which often include interviews by friends and relatives. The system also allows users to leave comments, or submit their own memories, of the memorialized person.
To date, MU journalism students have recorded stories about eight individuals. At first, the students were hesitant to contact the families of the people memorialized on the benches. And, frankly, some members of the families were uncertain about the idea of talking with the students.
But soon everyone realized how meaningful the feature stories could be.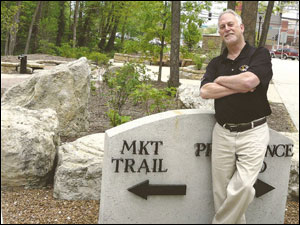 "We were so nervous that three of us went to the first interview together," said Ryan Huber, a convergence broadcast student. Sitting in the office of a local pediatrician, Huber said it was gratifying to see the doctor relax when the students asked: "What did your father mean to you?"
"He wanted to talk to us," Huber realized. "The transformation took place in front of us."
Aside from telling good stories, the research project is also an exercise to see if people's interest could be piqued. Would trail visitors stop and make a phone call? Or would they just walk by?
So far, Bentley is pleased the project has seen a reasonable amount of interest. In the first 10 days, more than 77 calls from 55 people came in, which is about six people a day, reported Bentley.
"For us, it's an experiment. The project has proven people will turn to the sign and turn to their phone. We know the technology works," Bentley said.
One would think convergence broadcast researchers at the Donald W. Reynolds Journalism Institute would be more interested in exploring new uses for the latest technological breakthroughs, such as the Apple iPad or the iPhone.
So, why focus on new uses for ordinary mobile phones?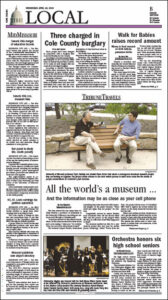 Because mobile phones are far and away the most popular and ubiquitous communications technology out there, explained Bentley. "Ninety percent of Americans carry a mobile or cell phone," he noted.
(A poll once found that people are more willing to share their toothbrush with their partner than their phone.)
However, the majority of those phones are not "smart phones," meaning they lack the 3G technology which makes surfing the Internet a breeze. Only about 17 percent of mobile phones are "smart."
For Bentley, another puzzle piece fell into place when his wife told him about her experience visiting a museum in Columbus, Ohio.
Instead of being handed a headset, the museum's curators asked visitors to use their own cell phones to listen to a pre-recorded message about the museum's exhibits.
After hearing about his wife's experience, Bentley – who thought the technology could be used for a plethora of purposes – contacted the museum and reached a company called "Guide by Cell."
"They were in the museum business," explained Bentley. But soon both parties realized it may be possible to expand the use of the technology and apply it many ways, he added.
Could the technology be used to satisfy the curiosity of rubberneckers at an accident site in order to speed traffic? Could it allow diners to hear a variety of restaurants' specials on a Friday night? Could it provide people another way to hear the details of an obituary? Could it help park visitors identify tree species? Or give people more information as they drive around a city looking at Christmas light displays?
The technology permits people to satisfy their curiosity when they are out and about in the world, rather than waiting to head home for an answer in a newspaper or on the Web.
It holds the capacity to turn the whole world into a museum. "We'll provide information to people who want it, when and where they want it," Bentley noted. "It's radio on demand."
For now, Bentley and his students are hopeful people will drop by the MKT Trail in Columbia with their cell phones and listen to the students' work. "These are good stories," he noted. "And the people on these plaques are great people who deserve to be remembered."
Bentley sees his work as a way to help newspapers survive. Journalists could produce the information and advertisers could support their work with radio spots.
"We are the professionals at producing content," he said. "That's what we do."
People interested in visiting the trail, hearing the stories and seeing a map, can find out more information at www. gocolumbiamo.com/ParksandRec/Parks/MKT_Trail.
Several of the plaques are located near the MKT Plaza trailhead along Providence Road in Columbia, just south of Rollins Street.
Updated: May 11, 2020
Related Stories
Expand All
Collapse All
---