Winners Selected in First J-FIG iLife Challenge
Columbia, Mo. (Nov. 19, 2004) — The multimedia project of "Dozing in the Strangest Places" won best of show at the Journalism-Freshmen Interest Group (J-FIG) iLife Challenge awards ceremony held Nov. 17 at the University of Missouri-Columbia.
Mike Hall, BJ '04, announced the winning team of Mark Buhrmester, Michael Chesney and Scott Parsons and presented each with an Apple iPod. Hall was the national winner of ESPN's reality series, "Dream Job," this past spring and is serving his one-year contract as a SportsCenter anchor.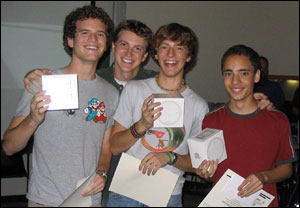 A total of 77 teams representing approximately 250 freshmen students participated in the Challenge, designed to help students learn digital technologies in a creative way. Each entry needed to present a completed story in less than five minutes and use the iLife suite of software tools from Apple. The Challenge was sponsored by the Missouri School of Journalism, Apple Computer and TigerTech. Category winners also received prizes.
"The Missouri Method is one of offering hands-on experience," said Brian Brooks, associate dean of undergraduate studies. "Our freshmen students are learning valuable production skills that will be essential to their future roles as journalists."
Entertainers from Comedy Wars hosted the event. Vin Capone, BJ '93, now an Apple executive who specializes in digital media, welcomed guests using video conference from his California office.
The FIG is available through MU Residential Life. It a learning community involving about 20 students who live together in the same residence hall and take three classes together.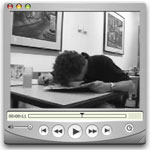 J-FIG iLife Challenge Overall Winners
Category: Student Experience
Mark Buhrmester, Michael Chesney and Scott Parsons
Category Winners
Advertising
Lydia DeWitt, Megan Giunta, Amanda Pope and Elizabeth Studnicka
Entertainment (Non-Music)
Elizabeth Lameyer and Kimber Oneal
Feature/News
Megan Kinkade, Adam Milton and Angie Spencer
Humorous/Weird I
Jeremy Goldmeier and Bob McMahon
Humorous/Weird II
Kevin Garnett, Greg Pietras and Sarah Smart
Music
Joey Chambers, Max Householder, Sean Sposito and Brittany Stalker
Peer Advisors
Julia Luscher and Ben Kennedy
Political
Andrew Asbury, Andy Paschen and John Rost
Sports
Erica Bennett, Eric Evelhoch, Julius Kerschinske and Christopher Rebeck
Student Experience
Mark Buhrmester, Michael Chesney and Scot
Updated: April 1, 2020
Related Stories
Expand All
Collapse All
---