Brian Brooks Named to the 2005 Class of Apple Distinguished Educators
Columbia, Mo. (Aug. 23, 2005) — Brian Brooks, associate dean for undergraduate studies and administration, has been named to the 2005 roster of a select group of Apple Distinguished Educators. Apple Computer selects national education professionals for their commitment to innovations in teaching and research.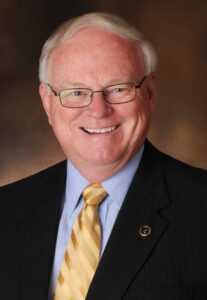 The group met recently at the Fairmont Hotel in San Jose, Calif.
Apple Distinguished Educators are among the first to make effective use of technology to support learning objectives in the classroom. They present their successes at key conferences and events, lead hands-on workshops and model effective administrative leadership and professionalism.
"It's an honor to be included in this select group," Brooks said. "It includes some of the most innovative teachers in the country."
Only about 500 ADEs have been chosen since the program's inception 10 years ago.
Brooks was a key figure in the school's adoption of Apple technology. The school has successfully implemented a freshman contest in which journalism majors compete to create innovative multimedia projects, including digital movies. Student winners receive prizes such as Apple iPods.
The school also is in the process of introducing digital video into the curriculum of its basic news-writing class, again using Apple technology.
"Our goal is not to use technology for technology's sake," Brooks said, "but to do things with the technology that were never before possible."
Brooks said he has taught the course off and on for more than 25 years, but until Apple's video-editing technology was implemented, he had not been able to see students' interview sources. Nor were they able to produce television news stories.
"In the past, video technology was too expensive to introduce in this basic course," Brooks said, "but using Apple software and hardware and third-party digital video cameras, we are able to do it now."
Students use Apple's iLife software, which is bundled with all Apple computers, to complete the assignments. They graduate to more advanced tools in later courses.
Updated: April 7, 2020
Related Stories
Expand All
Collapse All
---