By D'Arcy Rapp
Columbia, Mo. (December 15, 2005) — Armed with laptops and video cameras, hundreds of journalism students displayed their movie-making talents at the 2005 Freshman iLife Challenge awards ceremony. Comedy Wars emceed the event, which was co-sponsored by the Missouri School of Journalism, Apple Computer and TigerTech, the campus computer store.
The evening was full of entertainment and prizes as each team presented its iLife movie. Winning teams were awarded prizes, and audience members were eligible to win door prizes including iTunes gift cards, wireless mice, a PSP and a digital camera.
The Challenge charged groups of students to present a story of five minutes or fewer in the categories of Advertising, Arts and Culture, MU Life, News and Sports using Apple's iLife suite of software tools. Prizes for the winners of the various categories were related to the categories' themes, such as footballs autographed by Missouri Tigers Head Coach Gary Pinkel for Sports and passes to the Ragtag Theater for Arts and Culture.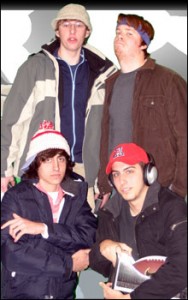 Mark Johnson, project manager for the Freshmen iLife Challenge, says that program developed as technology in the Journalism School has become more important.The School of Journalism designed the competition, now in its second year, to introduce freshmen to the new digital technologies they can expect to use in their journalism careers.
"Since the basic news course has begun incorporating multimedia convergence projects, the iLife Challenge will give students a big leg up on those projects," says Johnson. "Plus, working with multimedia is a valuable skill for anyone to have. Even if the students aren't going to use it in class, they now know and have experience making videos which can be applied to professional and personal events."
Mike Alden, University of Missouri athletic director, brought the ceremony attendees updates on the ongoing Mizzou v. UMKC basketball game live from Mizzou Arena. The same live chat allowed the ESPN Dream Job winner, ESPNU anchor and Missouri J-School graduate Mike Hall, to announce the Grand Prize winners at the conclusion of the evening.
A team of Walter Williams Scholars, Adam Rux, Kiernan Maletsky, Zach Noland and Michael Ziman, won the Grand Prize, each receiving 30GB video iPods. Team Surge, as the group was called, submitted its movie to the Sports category. The iLife piece was a comedic feature about "Xtreme Freestyle Walking."
Aside from some great prizes, participants of the iLife Challenge recognized the valuable skills that they were taking away from the event.
"I learned a lot about what constitutes a good video, what makes something entertaining to watch. I learned a lot about the capabilities of the iLife suite that I anticipate using again," Maletsky says.
"The iLife Challenge helps students learn digital editing skills while having fun," said Brian S. Brooks, associate dean for undergraduate studies. "Our students will need to understand how to use these technologies as they enter the field of journalism."
iLife Challenge Winners
First-, second- and third-place winners were selected in each category by Journalism faculty members.
Grand Prize
Team Surge: "Xtreme Freestyle Walking"
Adam Rux
Kiernan Maletsky
Zach Noland
Michael Ziman
Category Winners
Advertising
Judges: Steve Kopcha and Marty Steffens
1st Place: The Pearls: "McDavid"

Lanie Overton
Katie Baran
Sam Harmon
Crystal Schlichting

2nd Place: The Beedogs: "One Ply"

Philip Rapisardo
Zachary Swyers
Chelcey Smith

3rd Place: Snake: "The Rec"

Ryan Meyer
Dan Buaniconti
Sean Doyle
Dan Oshinsky
Arts & Culture
Judges: Byron Scott and Rob Weir
1st Place: The Bam Bams: "Footage"

Amy Rocchio
Bridgette Jefferson
Mallory O'Donnell

2nd Place: Fry, Ney, Schamburg & Tucker: "The Happy Photographer"

Eric Fry
Gideon Ney
Alicia Schamburg
Graham Tucker

3rd Place: The BATs: "Abbey and the Terrible, Horrible, Not So Good, Very Bad Day"

Breann Muich
Tori Reneker
Abbey Trescott
MU Life
Judges: Laura Johnston and Lee Wilkins

1st Place: Defoesters: "The Real Defoe"

 Kolleen Kawa
Emily Roxberg
Bryce Workman

2nd Place: The Fantastic Four: "Walking to a Different Beat"

Tyler Davis
Eric Cover
Logan Elliot
Brian Colbert

3rd Place: Two Guys and a Girl: "Letter to Mom"

Lauren Denigan
Matt Tarnawa
Jake Stokes
Ryan Winger
News
Judges: Brian Steffens and Margaret Walter
1st Place: Awesome: "Katrina"

Rachel Augustine
Jamie Lemon
Julia Frasco
Max Hyman

2nd Place: News Team 4: "Fire Alarms"

Lauren Blease
Erica Beinlich
Ryan Luby
Kyle Barker

3rd Place: Smarter than the Average Bear: "Good News Network"

Ashley Smith
Ryan Spencer
Alison Bernero
Karen Ostergren
Sports
Judges: Rania Adwan and Mary Lawrence
1st Place: Surge: "Xtreme Freestyle Walking"

Adam Rux
Kiernan Maletsky
Zach Noland
Michael Ziman

2nd Place: Greatest of All Time: "Flip-Flop Golf"

Luke McCormick
Alex Tribou
Michael Rosenhaus

3rd Place: Rookies of the Year: "Why Can't We Be Friends?"

Stephanie Call
Catherine Crane
Laurel Cummings
Rebekah Sasse
---
D'Arcy Rapp, a senior from Peoria, Ill., is majoring in Radio-TV Journalism. She has interned with two NPR affiliates and with Fleishman-Hillard public relations and has created television promotions for a KOMU-TV. Rapp has served as a University Tour Guide, Journalism Ambassador, Summer Welcome leader and Peer Advisor in the residence halls. An active member of the Alumni Association Student Board and Newman Center, Rapp was recognized as one of the campus' top students when tapped into Omicron Delta Kappa, a national leadership honorary society.
Updated: April 8, 2020
Related Stories
Expand All
Collapse All
---