Journalism Students to Be Required to Have Wireless Laptop Computers
Columbia, Mo. (May 3, 2004) — Missouri School of Journalism undergraduate and graduate students will be required to have wireless laptop computers beginning with the fall 2005 semester.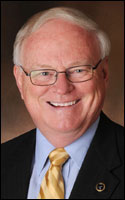 "It's impossible for the journalist of today to be productive without an intimate knowledge of the technological tools the profession requires," said Brian S. Brooks, associate dean for undergraduate studies and director of the Journalism Network, the school's computer infrastructure. "A big part of that future is wireless connectivity, and with the help of the campus we are working to make wireless access available throughout the journalism complex and throughout most areas of the campus."
Studies show that 85 to 90 percent of freshmen entering Mizzou and majoring in journalism already purchase a computer of some sort at the start of their freshman year.
The school will recommend two or three configurations for all entering freshmen and graduate students. Additional software may be required in some specialties by the time students reach the junior year or in specific graduate areas of emphasis. Photojournalism majors, for example, will need to purchase Photoshop, a program for toning photographs for publication.
The base-level student computer configuration, including software, is anticipated to cost $1,400 or less. More expensive models with more features will be available for those students who desire additional software and technological capabilities.
Students will be given financing options to amortize the cost over four semesters through the MU Office of Financial Aid.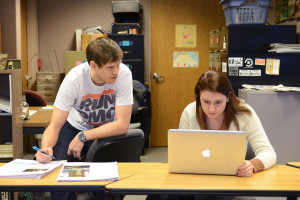 Brooks said the school has been considering such a move for at least five years. "We finally concluded that the technology is mature enough to make this feasible," he said. He noted that many colleges nationwide have begun similar laptop initiatives.
The school will encourage students to acquire wireless laptop technology from Apple, which it has designated as its preferred provider, but students also will have a choice of a Windows-based alternative.
"This is not about selecting one vendor," Brooks said, "although there would be some obvious advantages in that. But today's computing environment is cross-platform, and we will create an open environment that respects user choice."
"Still, it's obvious to me that the only laptop vendor doing any innovation in computing right now is Apple. The company has a wonderfully seamless package of hardware and software that almost perfectly fits our needs. And it has clearly demonstrated its commitment to open standards," Brooks added.
Brooks noted that Operating System X, Apple's latest, is Unix-based and less susceptible to viruses than other operating systems.
"Viruses have cost us hundreds of hours of support time in the last nine months," Brooks said. "We hope this move will reduce that vulnerability over time."
For information about the recommended configurations and prices, contact Computer Spectrum at the University Bookstore.
Updated: March 16, 2020
Related Stories
Expand All
Collapse All
---