Sarah Copeland, BJ '99, of the Food Network to Serve as Centennial/Dedication Consulting Chef
Themed Meal Events Will Officially Open and Close Celebration
Columbia, Mo. (Feb. 12, 2008) — As a recipe developer for the Food Network, Sarah Copeland, BJ '99, has seen it all when it comes to New York high society – black-tie galas, champagne and caviar receptions and everything in between.
But when she thinks about returning to Missouri, she thinks about the comforts of coming home.
"I'll never forget the feeling I had the first time I walked onto the campus in Columbia," Copeland said. "It felt just like home, and that's a feeling that will keep me coming back to Columbia over and over again."
Copeland is hoping to share that feeling with alumni and friends in her role as the consulting chef for the Sept. 10-12, 2008, celebration of the Missouri School of Journalism Centennial and Reynolds Journalism Institute Dedication. She will help design the opening meal event on Sept. 10 and the closing meal event on Sept. 12, both to be held at Mizzou Arena.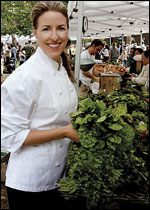 As a recipe developer, food writer and photographer for the Food Network, Copeland has created and attended a multitude of events all over the country. While contributing her visionary expertise is nothing new for Copeland, she said the centennial/dedication is a one-of-a-kind opportunity to celebrate the energy and comradeship that has been a hallmark of Missouri Journalism through the years.
The meal themes are inspired by the state of Missouri, whose citizens not only pioneered the establishment of the first land-grant university west of the Mississippi River in 1839, but also the founding of the world's first school of journalism in 1908.
The centennial/dedication celebration will kick off Wednesday, Sept. 10, with the J-School Barbecue Bash featuring a tasting menu of barbecue by Grand World Champion pitmaster Mike Mills. Affectionately known as "The Legend" in the world of barbecue, he is the father of Amy Mills Tunnicliffe, BJ '86. Plenty of home-cooked side dishes, vegetarian entrees and desserts will also be available. Copeland said the event is designed to welcome people from all over the country and create an atmosphere that encourages renewing friendships and networking. It will be followed by a performance of Freedom Sings™, a multimedia music group celebrating the First Amendment.
Guests can wrap up the celebration with the Taste of Missouri on Friday, Sept. 12. Featuring a tasting menu of local and regional products, from artisanal cheeses and local wines to farm-raised meats and seasonal produce, the evening will be an inspiring showcase of Missouri's finest products. AgriMissouri, the organization representing the state's agricultural producers, will assist with the menu.
"In the food world, local, sustainable cuisine is the most celebrated art," Copeland said. "The quality of Missouri agriculture is enviable and is a beautiful complement to the excellence of the Missouri's journalism heritage. I want to give alumni an opportunity to experience two of MU's finest traditions side by side, and perhaps they can even learn or taste something they never had the chance to experience during their school years."
Following the Taste of Missouri and closing program, guests are invited to a champagne toast and dessert reception. Designed to cap off a century of Missouri Journalism excellence and commence its future with the Reynolds Journalism Institute, the event will feature desserts and pastries created by a team under the supervision of award-winning chef Daniel Pliska, executive chef of the University Club. In concluding the celebration, Copeland said she hopes that alumni enjoy the memories that shaped their lives and careers.
"I want them to recall with sweetness their favorite moments on the Quad: taking their first tour, pulling pranks, engaging minds, studying books and throwing caps," Copeland said. "And, I want them to add this event to their list of most memorable moments."
Registration for these meal events and other centennial/dedication activities will begin in the spring of 2008 on the official 2008 Web site. Alumni also will receive mailed registration packets by the end of April.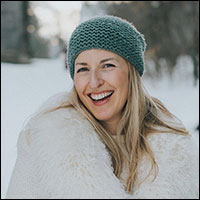 About Sarah Copeland, BJ '99
Copeland decided to give back to the School as a consulting chef because of her unique talents that have melded journalism and culinary arts. The turning point in her career, she said, happened while writing an immersion piece on an MU professor for one of her magazine journalism classes.
"The professor was a very talented, self-taught pastry chef at Cherry Street Wine Cellar. I was inspired by how she pursued this highly creative and very giving craft on the side of an already demanding career," Copeland said. "I started doing the same, but eventually cooking took over."
After graduation, she worked in New York editing photos for Glamour magazine and O, the Oprah Magazine. In 2000, Copeland enrolled in The Institute for Culinary Education and began working as a recipe tester and assistant food stylist for magazines such as Redbook and Food & Wine. Her varied experience includes working at a chateau and cooking school in Provence, France, as a private chef in St. Tropez, France, and as a pastry cook at Daniel Boulud's three-star restaurant Café Boulud in New York.
At The Food Network, Copeland hosts a food blog where she chronicles her food favorites and finds. She has worked on many projects throughout her career, including contributing to the cookbook How to Boil Water, working on Iron Chef America, and developing recipes and articles for Rachael Ray Magazine, Saveur and Artful Living magazines and others.
Copeland has won several awards, including the 2003 Julia Child Award from the International Association of Culinary Professionals and the 2003 Women Chefs and Restaurateurs Award for Food Journalism. In 2006, she won the William R. Burleigh Award for Distinguished Community Service for her volunteerism with Share our Strength, a national hunger-relief organization.
Copeland said that while she is looking forward to providing a memorable event for alumni and other guests, she also is excited to advance the standing of food journalism as a career.
"When I studied journalism at the University of Missouri, nobody talked about food journalism. Now, because of many compelling pieces about food, agriculture and nutrition, America is waking up to the pleasure, honor and health in respecting local agriculture like that found in and around the state of Missouri. I hope that by bringing awareness to that hidden resource, the School of Journalism and its alumni can continue to keep their finger on the pulse of society and lead the way into the future," Copeland said.
Updated: April 28, 2020
Related Stories
Expand All
Collapse All
---