Journalism Alumni Return to Campus for 2007 Reunion Rally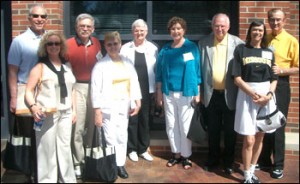 Columbia, Mo. (May 1, 2007) — Seven Missouri School of Journalism alumni returned to the University of Missouri-Columbia campus as part of the 2007 MU Alumni Association Reunion Rally activities held April 30.
The alumni, from the classes of 1957 and 1967, were celebrating their 40th and 50th graduation anniversaries. They attended a breakfast hosted by the Mizzou Alumni Association, a budget meeting at the Columbia Missourian and a luncheon presentation by professor Stuart Loory's Confronting Controls on Information graduate class.
The group enjoyed revisiting the place that launched many of them into journalism-related professions.
"It was a great boost to my career," said Virginia Newman, BJ '57. "I came out of MU well-prepared for my long journalism career."
Michael Friedman, MA '67, said his Missouri Journalism degree has meant "everything" to him.
"It not only educated me; it opened the world of other J-School grads to me," Friedman said.
Those attending included:
Michael Friedman, MA '67
New York, N.Y.
Friedman spent two years at ABC network news and more than 35 years at DWJ Television, his own firm specializing in electronic public relations for television and radio.
Jim Hoag, BJ '57
St. Charles, Mo.
Hoag said his journalism degree was the foundation for a variety of careers, mostly in corporate advertising and public relations.
Virginia (Turman) Newman, BJ '57
Tallahassee, Fla.
Newman has worked as a communications director for the State of Florida in the departments of transportation, commerce, health rehabilitative services and government relations. Previously, she worked in journalism at the New Orleans Times-Picayune, the St. Petersburg Times and the Associated Press. Newman is now a freelance travel writer.
Ann Dilworth Rich, BJ '57
Independence, Mo.
Rich worked at an advertising agency in Kansas City, Mo., following graduation. After raising three children into their teenage years, she worked for the Kansas City Royals for 24 years.
Bob Sells, BJ '57
Little Rock, Ark.
Sells worked in public relations at Southwestern Bell for 28 years. He owned his own public relations agency, Sells and Associates, for 10 years and taught writing and public relations at the University of Central Arkansas for five years. Sells is now a volunteer at the Clinton Library in Little Rock.
Jerry Shnay, BJ '57
Park Forest, Ill.
Shnay, a 30-year-veteran of the Chicago Tribune (1967-1997), served as a graduate assistant at the Columbia Missourian in 1959-1960 and then worked at several newspapers, including the Roswell (N.M.) Record, the Albuquerque (N.M.) Journal and the Hammond (Ind.) Times.
Penny (Banks) Shnay, BJ '60
Park Forest, Ill.
After working briefly for United Press International, Shnay spent 23 years as an elementary education teacher. She also was a lecturer at Governors State University in University Park, Ill., for 13 years prior to retirement.
Updated: April 28, 2020
Related Stories
Expand All
Collapse All
---