Two BJ '61 Alumni Return for MAA Gold Medal Reunion
Bob Arkes and Tom Ryther Learn of Curriculum Changes, Meet with Journalism Faculty, Tour New Facilities at the School
Columbia, Mo. (Sept. 15, 2011) — When Bob Arkes and Tom Ryther graduated from the Missouri School of Journalism in 1961, hands-on media opportunities existed at the Columbia Missourian newspaper, radio station KFRU, KOMU-TV and the University's closed-circuit TV facility, KMIT. Gannett Hall was under construction. The School offered eight major sequences: news-editorial, advertising, magazine, radio-TV, photojournalism, weekly and small daily publishing, medical writing and agricultural journalism.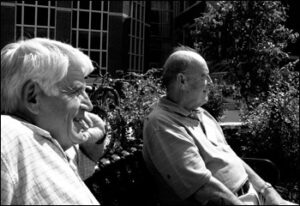 The two learned about the expanded media opportunities and areas of study and toured two new buildings when they returned to campus in early September for the Gold Medal Reunion, sponsored by the Mizzou Alumni Association.
During their visit Associate Dean Brian Brooks gave an overview of the School and its more than 30 interest areas, followed by presentations by Associate Professor Jeanne Abbott on the Missourian neighborhood news blogs, Associate Professor Mike McKean about the Reynolds Journalism Institute student competitions as well as Assistant Professor Stephanie Padgett and Associate Professor Margaret Duffy about MOJO Ad, a student-staffed agency that specializes in the "youth and young adult" market.
Robert "Bob" Arkes, BJ '61, Advertising
Portland, Ore.
Arkes resides in Portland, Ore., with his wife Jane, BS Ed '61.
Tom Ryther, BJ '61, Broadcast News
St. Paul, Minn.
Ryther is a St. Louis native and worked for two years after high school to earn money to attend the Missouri School of Journalism. He got his first broadcast job as a student at KBIA-FM. After graduation, Ryther worked at radio stations WDXI in Jackson, Tenn., and WIBV in Belleville, Ill. He landed his first television job at KPLR-TV in St. Louis in 1968. Three years later Ryther moved to the Twin Cities area in Minnesota to be a sportscaster at KSTP-TV and later worked at WKYC-TV in Cleveland. In 1979 Ryther moved back to the Twin Cities area to be a sports director for WTCN-TV. In 1983, the station was sold to Gannett and changed the name to KARE-TV. Ryther retired from there in 1991.
For more information about the Gold Medal Reunion, contact MAA.
Updated: June 4, 2020
Related Stories
Expand All
Collapse All
---