School's Viewbook Wins Bronze Medal in National Contest
Columbia, Mo. (Aug. 28, 2006) — The Missouri School of Journalism's viewbook, already a success in the eyes of prospective students, faculty and alumni, has gained yet another accolade.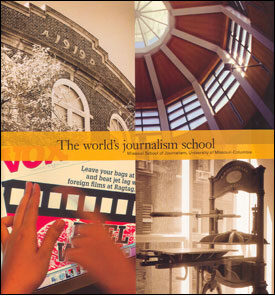 "The World's Journalism School" won a bronze medal in the "Visual Design in Print" category of the 2006 CASE (Council for Advancement and Support of Education) Circle of Excellence Awards. The viewbook was one of approximately 30 bronze medal winners out of 615 entries in the category. The entries were submitted by both public and private colleges and universities and represented a variety of printed materials.
The School collaborated with the MU Office of Publications on the project. Suzette Heiman, director of planning and communications, Kate Gray, assistant director of MU Publications, oversaw the development of the booklet. Chris Blose, MA '04, was the writer and editor, and Jill Fox was the designer.
"This recognition is very much appreciated, especially since it reflects the effectiveness of the piece in conveying what distinctive qualities and values characterize a Missouri Journalism education," said Heiman.
Highly visual, the 20-page booklet captures the excitement and challenges of the student journalism experience at Missouri. Photographs portray students reporting, writing, designing and creating at the School's community-based professional media and advertising outlets.
Several sections highlight off-campus learning opportunities such as the study abroad and the New York and Washington, D.C., programs, as well as featuring a diverse range of alumni who have flourished with a Missouri education.
"Some of the best journalists in the world have learned their profession through the Missouri Method," said Brian S. Brooks, associate dean for undergraduate studies and administration. "The viewbook reflects our special and unique hands-on approach."
Headquartered in Washington, D.C., CASE is the professional organization for advancement professionals at all levels who work in alumni relations, communications, and development. Its membership includes more than 3,200 colleges, universities, and independent elementary and secondary schools in 55 countries around the world.
The viewbook is distributed to prospective students and other visitors at the School or by contacting the Missouri School of Journalism.
Updated: April 10, 2020
Related Stories
Expand All
Collapse All
---