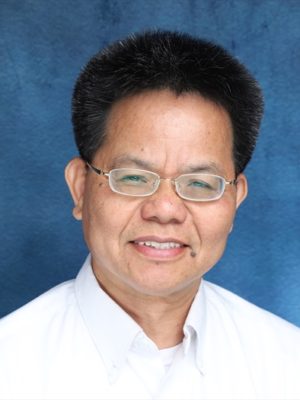 Download High-Resolution Photo
Leonard H. Goldenson Endowed Chair in Radio and Television
218 Reynolds Journalism Institute
Missouri School of Journalism
Columbia, MO 65211-1200
Education
• BS in Tropical Crops, South China University of Tropical Science
• BA in English Language and Literature, Jinan University
• MA in Journalism, Indiana University
• PhD in Mass Communication, Indiana University
Areas of Expertise
Audience Research
Digital News
Media Effects
Media Psychology
Social Media
Sports Journalism
Television News
Visual Journalism
SHUHUA ZHOU has pioneered broadcast news in English in Southern China and anchored, reported and edited English-language news for the Guangdong TV Station (GDTV) in Guangzhou, P.R. China. GDTV is the third largest TV station in the country and serves four southern provinces with an audience more than 175 million. Zhou has worked as a consultant, teacher as well as an interpreter and translator for international broadcast workshops and documentaries. He was recognized in 2007 by the Guangdong TV Artists' Association as one of the "100 Best TV Hosts" for his professional work as anchor and director of the English News program at the Guangdong TV Station from 1988 to 1993.
His primary research areas are television news and human cognition of mediated messages using news as his primary stimuli. Zhou engages in three areas of investigation involving the representation, utilization, and manipulation of information on television. He studies how people learn from television news, focusing on the basic processes of news cognition, including perception, attention and memory as well as individual and situational differences in cognition. Zhou has published numerous articles in flagship communication journals.
Zhou is the current editor of the Journal of Broadcasting and Electronic Media, editor of Communication and Society and associate editor of Computers in Human Behavior, as well as a member of the editorial board of several peer-reviewed journals. He is a frequent speaker at many foreign universities, including a position as Senior Fellow at Nanyang Technological University in Singapore and that of external examiner at a number of universities in Hong Kong and Macao. He is the immediate past president of the Chinese Communication Association and vice president of the Asia-Pacific Communication Alliance.
Zhou earned his doctorate and master's degrees from Indiana. He has also earned a Bachelor of Science degree in tropical crops from the South China College of Tropical Crops (now Hainan University) and a Bachelor of Arts degree in English language and literature from Jinan University.
Leonard H. Goldenson Endowed Chair in Radio and Television
The Leonard H. Goldenson Endowed Chair in Radio and Television was established in 1982. The position aims to help develop research programs and educate communities through local broadcast stations. The chair is named for Leonard Goldenson (1905-1999), who founded the American Broadcasting Company.
Selected Publications
Zhou, S., Kiesow, D., & Guo, L. (2021): The Values of Print: Affordances and Sensemaking for Newspaper Consumers, Journalism Practice, DOI: 10.1080/17512786.2021.1910984.
Kiesow, D., Zhou, S., & Guo, L.  (2021) Affordances for Sense-Making: Exploring Their Availability for Users of Online News Sites, Digital Journalism. DOI: 10.1080/21670811.2021.1989316
Meng, X., & Zhou, S. (in press). News media influence on institutional and system trust and the moderation of political values. Asian Perspective.
Zhou, S. (2021). Living in the age of uncertainty and finding solutions. Communication & Society, 55, v–viii.
Zhou, S. (2020). Shining a spotlight on East Asian communication research, and evidence for optimism. Journalism and Mass Communication Quarterly. 97(3), 577-580. Doi: 10.1177/1077699020921136
Bryant, J., Zhou, S., & Chen, Y. (2020). Media effects and people effects: How scholarship matters. Communication & Society, 54,1–26.
Zhang, G., Zhang, D., & Zhou, S. (2020). Fame and controversial images of sports stars: The case of Tennis Player Li Na. Journalism Research. 172 (8), 115-125.
Shen, B., & Zhou, S. (2020). Digital media and social change: Changing rules and stable drivers. China Journalism & Communication Research, 142-153.
Zhang, X. & Zhou, S. (2020). Sharing health risk messages on social media: moderated mediation paths through risk message, fear, information processing, persuasion and image concern. Cyperpsychology: Journal of Psychosocial Research on Cyberspace, 14 (2), Article 4. https://doi.org/10.5817/CP2020-2-4
Chen, G. & Zhou, S. (2020). Loneliness assuaged: Eye-tracking an audience watching barrage video. Journal of Visualized Experiments. (159), e61089, Doi:10.3791/61089.
Kim, Y., & Zhou, S. (2020). The Effects of Political Conflict News Frame on Political Polarization: A Social Identity Approach. International Journal of Communication. (14), 937-958.
Liu, Y., Zhou, S., & Zhang, H. (2020). Second screening use and its effects on political involvement in China: An integrated communication mediation model. Computers in Human Behaviors. (105), 106201. DOI:10.1016/j.chb.2019.
Books
Wei, R., Zhou, S. and Lo, V. (2019, 2016). Media Effects and Social Change (2nd ed.): Beijing: Renmin University of China Press.
Zhou, S. and Sloan, D. (Eds.) (2015, 2011, 2009). Research methods in communication (3rd ed). Northport, AL: Vision Press.
Zhong, X. and Zhou, S. (Eds.). (2006). Continuity and change: Perspectives on journalism and mass communication education. Beijing: Communication University of China Press.
Updated: November 22, 2021