Construction Plans for the Donald W. Reynolds Journalism Institute Approved by the UM Board of Curators
Columbia, Mo. (Feb. 25, 2005) — The University of Missouri Board of Curators at its February meeting approved construction and renovation plans for the Donald W. Reynolds Journalism Institute.
The new center will focus on advanced studies of journalism and its role in democratic societies. The Donald W. Reynolds Foundation awarded the Missouri School of Journalism $31 million for the creation of the Institute in February 2004. Of this gift, $18.6 million will be spent on construction and technology, $12.4 million on programs.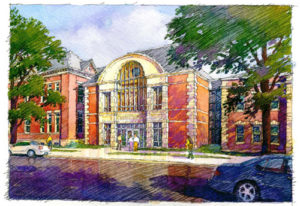 Official groundbreaking ceremonies for the Institute will be Sept. 1 at the School. All alumni and other interested persons are invited to attend.
"A lot of very good people put their heads together to design a new building and renovate standing ones with a goal of creating a bond between the past and the future," said Pam Johnson, the Institute's founding executive director. "The plans are respectful of the Quadrangle, its architecture and its prominence, while also capturing the feel of tomorrow."
The construction includes the complete renovation of the vacant Sociology Building, partial renovation to Walter Williams Hall and construction of a new addition between Sociology and Walter Williams Hall.
The Institute will be a state-of-the-art facility with the heart of the Institute in a Futures Laboratory and a Technology Demonstration and Research Center. The Futures Laboratory will be a place where faculty, visiting professionals and scholars test and report on new approaches to journalism and advertising. Included in this area will be collaborative workspaces, which will provide versatile space for teaching and project teamwork, a TV studio, space for editing workstations and editors' offices. Adjacent to the Futures Laboratory will be a Technology Demonstration and Research Center, where new media-related technologies will be tried out and demonstrated for media professionals.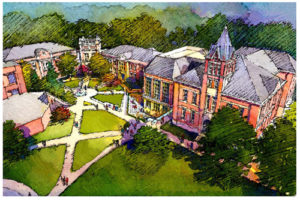 Forum and seminar rooms are planned to be close to the Futures Lab, providing space for forums to take place that will engage professionals and scholars from journalism with those from others fields. A public reception and exhibit area and coffee shop are planned in this area, allowing for casual interaction among participants before, during and after forum programs. Also included will be the School of Journalism Library and Freedom of Information Center, which is an integral part of the Institute, encouraging study and research in history, law and ethics of journalism.
Last fall, Pam Johnson was hired as the Institute's founding executive director. A long-time media professional, she most recently served as a member of the Leadership Faculty at the Poynter Institute for Media Studies and as the Senior Vice President for News and Executive Editor at The Arizona Republic in Phoenix.
Roger Fidler was named the inaugural Visiting Fellow. He has spent 25 years advancing digital publishing concepts as an executive with Knight Ridder Inc. and most recently as a journalism professor at Kent State University. His research has been sponsored by the Los Angeles Times and Adobe Systems Incorporated. He is internationally recognized as a new media pioneer and visionary. In 2003 and 2004 he was named as a finalist for the prestigious World Technology Award in Media and Journalism. He has published a seminal book on new media and is a frequent speaker at conferences worldwide.
About the Donald W. Reynolds Foundation
The Donald W. Reynolds Foundation is a national philanthropic organization founded in 1954 by the late media entrepreneur for whom it is named. Headquartered in Las Vegas, Nevada, it is one of the largest private foundations in the United States.
Updated: April 28, 2020
Related Stories
Expand All
Collapse All
---