Four Journalism Faculty Awarded Reynolds Faculty Fellowships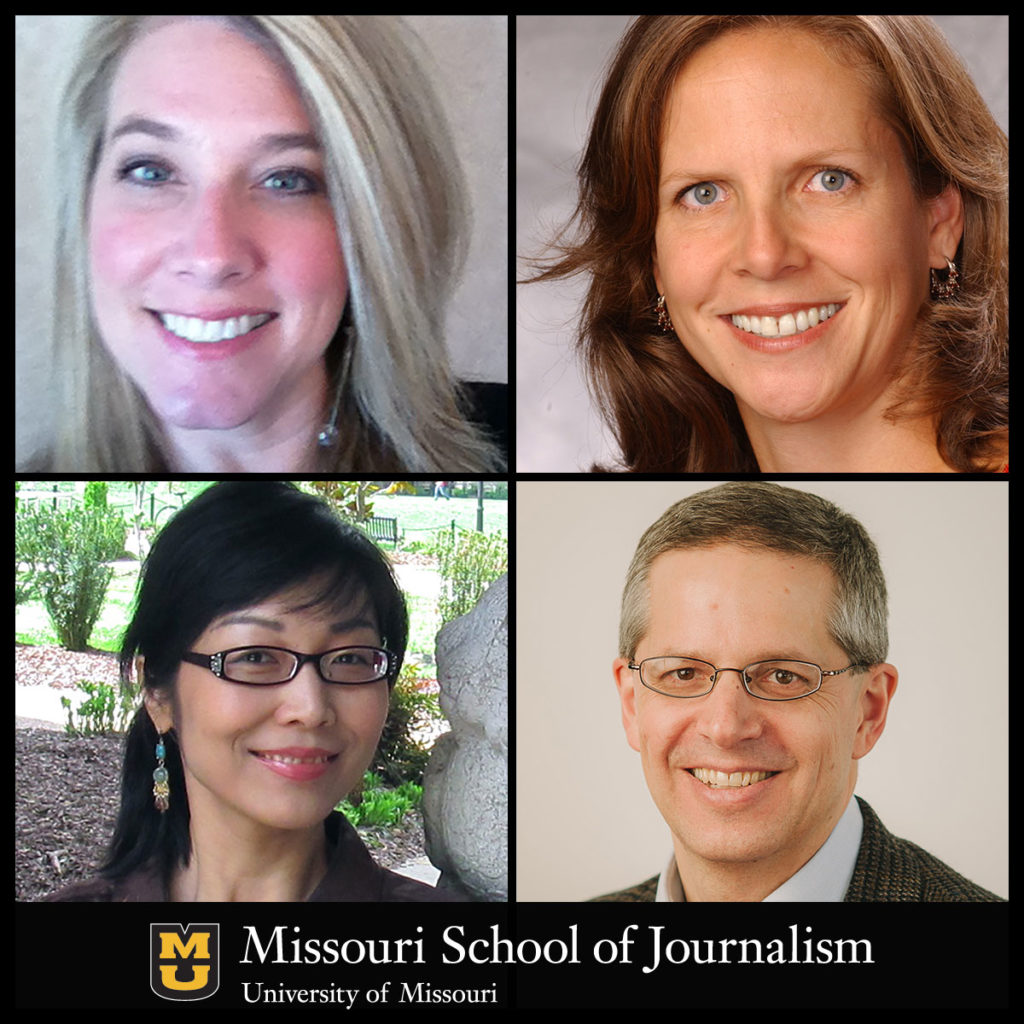 Clockwise, from top-left: Jamie Flink, Jennifer Rowe, Tim Vos and Yong Volz.
Annual Endowment Will Be Used for Salary Supplement and Support for Teaching and Research
Columbia, Mo. (Jan. 19, 2018) — Four University of Missouri Journalism faculty have been selected to receive a Reynolds Faculty Fellowship award. These unique fellowships provide support for scholarship and research, in addition to salary enhancements, in recognition of high-quality work.
"Teaching excellence is a hallmark of the Missouri School of Journalism," said David Kurpius, dean of the school. "Our faculty is top notch. These fellowships are an investment in them and will ensure the world's first journalism school remains competitive in attracting and retaining elite journalism faculty."
The four fellowships are part of a larger program established in 2014 by the Donald W. Reynolds Foundation to help recruit and retain talented faculty at the Missouri School of Journalism, the alma mater of the foundation's namesake. The School will receive $10 million from the Foundation in 2021; however, the Foundation is allowing up to 50 third-party donors to create the individual fellowships immediately with gifts of $200,000. Those matching donors receive the right to name the fellowships. Once the Foundation's gift is received in 2021, the level of each endowed fellowship will increase to $400,000.
The four faculty to receive named fellowships are:
Jamie Flink, assistant professor, was selected as the Molly Phelps Bean Faculty Fellow. Molly Phelps Bean, BJ '43, was a longtime Kansas City, Mo., resident and civic volunteer, who served as a board member of Tnemec Company, Inc. Flink teaches strategic communication courses and works with MOJO Ad students, the journalism school's student-staffed professional-services advertising agency. She has nearly 20 years of advertising account management and strategic planning experience serving national clients in the retail, restaurant and packaged goods industries. These include Sonic, Helzberg Diamonds, Blue Bunny ice cream and H&R Block.
Jennifer Rowe, associate professor, was selected as the Carol Loomis Faculty Fellow. Carol Loomis, BJ '51, one of the industry's most respected financial journalists, retired in 2014 as senior editor-at-large of Fortune magazine. Rowe chairs the magazine journalism faculty and has taught various magazine classes since joining the Missouri School of Journalism in 1998. These include courses in editing, design and writing as well as lifestyle and service journalism. She also regularly serves as editorial director of Vox, an award-winning weekly city magazine that appears online and in the print edition of the Columbia Missourian newspaper, which is distributed throughout Columbia.
Yong Volz, associate professor, was selected as the Roger Gafke Faculty Fellow. Roger Gafke is the retired director of program development for the Donald W. Reynolds Journalism Institute and professor emeritus at the Missouri School of Journalism. The fellowship is a gift of the Donald W. Reynolds Foundation. Volz is a member of the Journalism Studies faculty. Her research centers on the concept of transculturation and concerns the history and development of journalism – both as a discursive practice and a social institution – in the U.S. and China.
Tim Vos, associate professor, was selected as the Wallace Turner Memorial Faculty Fellow. Wallace Turner, BJ '43, was a Pulitzer Prize-winning journalist with The Oregonian and The New York Times. The fellowship is a gift of his brother, William V. Turner, BS BA '56. Vos chairs the Journalism Studies faculty. He teaches courses in principles of American journalism, American journalism history, philosophy of journalism and qualitative research methods in journalism. His research involves roles of journalism, media sociology and gatekeeping, media history, and media policy.
Donald W. Reynolds was a 1927 graduate of the Missouri School of Journalism and spent his life building the Donrey Media Group, ultimately owning more than 100 enterprises in the newspaper, radio, television, cable television and outdoor advertising industries.
The Donald W. Reynolds Foundation gift for the faculty fellowships follows previous gifts from the Foundation to build the Reynolds Alumni Center and to build and fund in perpetuity the Reynolds Journalism Institute (RJI) at the Missouri School of Journalism.
For more information about how you can establish a Reynolds Faculty Fellowship, please contact the School's Office of Advancement at (573) 882-4822 or Colin Kilpatrick, Executive Director of Advancement at kilpatrickc@missouri.edu.
Updated: October 28, 2020
Related Stories
Expand All
Collapse All
---