Dr. Edward C. Lambert, Missouri Broadcast Pioneer, Honored in Donald W. Reynolds Journalism Institute
Columbia, Mo. (Aug. 27, 2008) — More than a half century after changing the face of broadcast news in mid-Missouri, Dr. Edward C. Lambert is being honored by former students, family and friends with a named endowment and seminar room in the new Donald W. Reynolds Journalism Institute at the Missouri School of Journalism.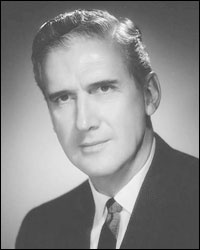 The Edward C. Lambert Innovation Endowment pays tribute to the former Missouri Journalism professor who founded KOMU-TV/Channel 8 in 1953 and will provide funding for RJI, which brings together citizens and journalists to improve the practice and understanding of journalism. KOMU-TV is the only university-owned commercial television affiliate in the world used as a training lab for students.
A seminar room within the Reynolds Journalism Institute will be named for Lambert to recognize the philanthropic contributions of those who created the endowment. The Edward C. Lambert Seminar Room, 200-A, will be dedicated at 3:45 p.m., Sept. 11, in the Institute during the centennial celebration of the Missouri School of Journalism.
"Professor Lambert was a pioneer in broadcast journalism," said Dean Mills, dean of the School. "We are delighted with the generosity of those who wish to preserve his legacy at the Missouri School of Journalism. His innovative spirit will live on in the important work of the Reynolds Journalism Institute."
Two 1971 graduates of the School, Paul Fiddick, president of Emmis International, and Mike Wheeler, a partner with Westerly Partners, approached the School in early 2008 with the idea to honor their former mentor.
"Ed Lambert was, as they say, truly a gentleman and a scholar," said Fiddick. "Naming the Lambert Seminar Room has been a labor of love. The response from Ed's friends, family and former students was immediate, generous and heartwarming."
Lambert attended colleges in Kansas and Iowa, earning his bachelor's and master's degrees before enlisting in the military. Because he wanted to be involved with radio, the Navy sent him to the Harvard School of Communications. He served as a lieutenant commander in both the European and Pacific fronts in World War II. Lambert was honorably discharged in 1945 with the rank of Lt. Commander. His specialty was communications.
Later that year, Lambert moved to Columbia, Mo., with his wife, Ella, to pursue broadcast journalism. While teaching at Stephens College he worked on his doctorate at the Missouri School of Journalism under his friend and mentor, Dean Frank Luther Mott. Lambert's dissertation was titled "The Future of Television." A year later he joined the Missouri School of Journalism as an associate professor. Lambert finished his doctoral degree in 1953 and, as a full professor, proposed to then-MU President Frederick Middlebush the idea of bringing television to central Missouri while being able to teach students at the station. Middlebush agreed and appointed Lambert assistant to the president in charge of television and head of the broadcast sequence. On Dec. 21, 1953, KOMU went on the air.
Lambert was the station's first general manager and also moderated "Missouri Forum," a public affairs show that he developed and hosted for more than 20 years. Lambert retired in 1980 after 34 years of service. In 1989, he received the School's most coveted honor, the Missouri Honor Medal for Distinguished Service in Journalism. Lambert died in 1999, but his legacy of innovation lives on through this newly created endowment.
"More than 50 years ago, Dr. Lambert brought a vision to the Journalism School with the concept of launching KOMU to serve as a real-life learning laboratory for broadcast journalism students," Wheeler said. "It seems only fitting that as the Reynolds Journalism Institute provides a platform for the visions of succeeding generations of journalists, that Dr. Lambert be recognized and remembered with such a beautiful and inspiring venue named in his honor."
The dedication is one of many activities planned for the Sept. 10-12 centennial/dedication event, which will feature more than 35 Futures Forum sessions, 27 Technology Summit sessions, two evening meal events, four musical and theatrical performances, 11 exhibits and displays, book signings, tours and numerous networking opportunities. Alumni, students, citizens, journalists, communicators and academics from all over the world have registered for the three-day event.
The Edward C. Lambert Innovation Endowment supports 100 by 100: The Centennial Campaign for the Missouri School of Journalism. The campaign seeks to raise endowments to strengthen Missouri's position as the world's premier school of journalism. Outright contributions, estate commitments and planned gifts such as charitable trusts and gift annuities made before Dec. 31, 2008, will be recognized in the campaign total.
About the Missouri School of Journalism and Reynolds Journalism Institute:
Since publishing the student-staffed University Missourian on Sept. 14, 1908, the Missouri School of Journalism has been the international leader in hands-on journalism education, also known as the "Missouri Method." The first to offer bachelor's, master's and doctoral degrees in the field, the School is also the distinguished home of several national journalism organizations, mid-career professional programs and a thriving research agenda. Its advanced curriculum takes advantage of new technologies and practices, a tradition of innovation that will be intensified with the opening of the Reynolds Journalism Institute (RJI). This 50,000 square-foot facility, created with an initial $31 million gift from the Las Vegas-based Donald W. Reynolds Foundation, will house state-of-the-art resources to test and demonstrate new technologies, experiment with convergence news production and delivery systems, and conduct real-time and virtual seminars and conferences.
Updated: April 29, 2020
Related Stories
Expand All
Collapse All
---