Journalism Students Visit with Iraqi Journalists about Freedom of the Press
Columbia, Mo. (March 31, 2005) — Some Missouri School of Journalism students got the rare opportunity to converse with journalists from Iraq during a recent 80-minute live satellite video conference.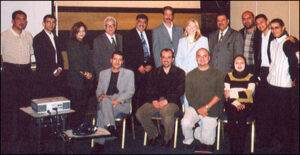 The six journalists, all from Baghdad newspapers, were part of a business journalism training session in Amman, Jordan, led by Marty Steffens, the SABEW Chair in Business and Financial Reporting. The training session, which also included 12 business journalists from Jordan, was sponsored by the U.S. State Department. The Missouri students were from two upper division classes, Business and Economic Reporting and Global Journalist magazine.
"It's another example of the School pushing the limits of technology to add to the instruction of the students," said Brian S. Brooks, associate dean for undergraduate studies and administration.
The students clamored to know about press freedom in Iraq, and what obstacles the journalists faced in creating a free press culture, Steffens said. "The journalists responded, sometimes with anger over the military occupation, and sometimes with hope about the burgeoning of new media in Iraq," she said. The students talked to the Iraqi contingent on March 16 – just as the new parliament in Iraq was to be sworn-in. But it was a day also marked by the realities of war, Steffens added, as one Baghdad journalist talked about his newspaper, the Baghdad Mirror, being hit by rocket fire with many of his colleagues injured.
The students were changed by the experience. One student, Stephanie Hunsberger, a senior magazine student from Chicago, told journalism faculty member Pat Smith, who instructs students in the Global Journalist class, that she called her mother right after the class to tell her about the experience. "It was so amazing," Hunsberger said. Another student in the class, Laura Girresch, a senior magazine major from St. Louis, also called her parents after the conference saying it was the "coolest thing" she had experienced at the J-School.
Updated: April 3, 2020
Related Stories
Expand All
Collapse All
---