Doctoral Student Rachel Young Named 2009 Paul Synor Fellow
Program Enhances Strategic Communication Studies at the Missouri School of Journalism
By Joan Niesen
Master's Student
Columbia, Mo. (Oct. 27, 2009) — Rachel Young, a first-year doctoral student at the Missouri School of Journalism, is the 2009 Paul Synor Fellow. Her research emphasis is in health communication, specifically addressing disparities in preventive care among adolescents and children. Young, MA '01, specialized her master's studies at the School in science communication. She is an honors graduate of Beloit College where she received her bachelor of arts degree in English and anthropology. Young has professional experience as a contributing editor for Cricket Magazine Group, a children's magazine publisher.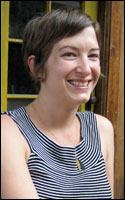 The Synor Fellow program, created in 2008, is named for Paul Synor, BJ '42, who donated his $2.5 million estate to the School to enhance strategic communication studies. Synor spent most of his life working in the creative department for advertising agencies in New York, Chicago, Toronto and London, including Leo Burnett in Chicago, the advertising agency responsible for creating Tony the Tiger, the Pillsbury Doughboy, Morris the Cat, Charlie the Tuna, the Marlboro Man and other brand icons.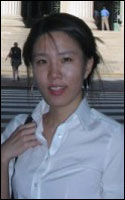 Young joins the first Synor Fellow, Hyunmin Lee, now a second-year journalism doctoral student who earned her master's degree in communication with an emphasis in public relations at the University of Florida. Lee works with Professor Glen Cameron on her research which studies how health news is being tailored to motion media. She also works with Associate Professor Glenn Leshner as a research assistant at the PRIME Lab. Before coming to the States to pursue a master's degree, Lee worked as a freelance interpreter and as an assistant account executive at a P.C.O (Professional Congress Organization) company in South Korea.
Young expressed appreciation for Synor's generosity and noted that receiving the Synor Fellowship made it possible for her to return to graduate school. "I hope to do justice to his donation, and to someday be able to provide someone else with such an unexpected, game-changing gift," she said.
Updated: May 6, 2020
Related Stories
Expand All
Collapse All
---