Meet new School of Journalism Professor Kate Rose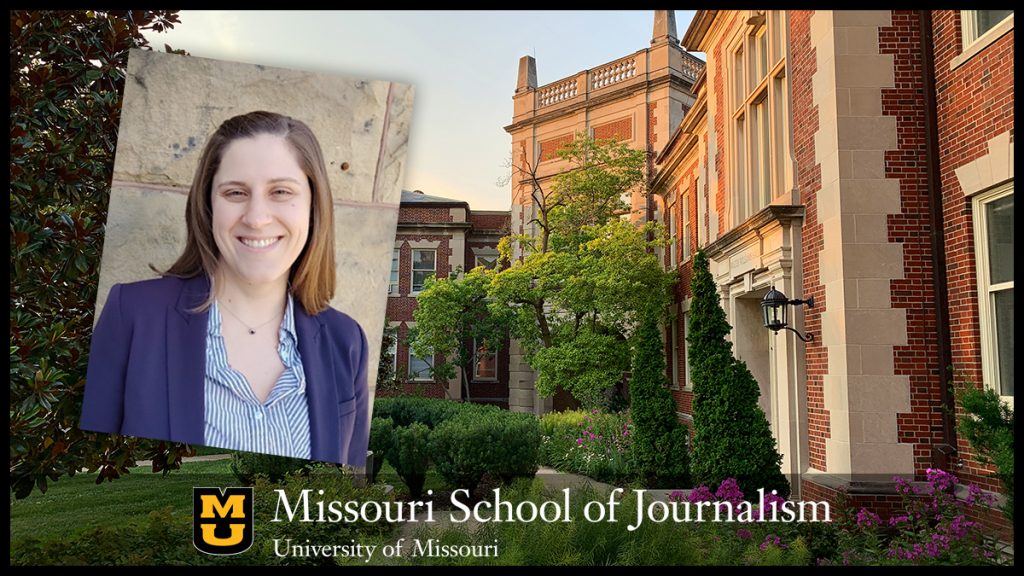 By Abby Werner
Columbia, Mo. (Sept. 27, 2021) — When Kate Rose decided to study environmental science in undergrad and graduate school, and then science communication for her doctorate, she did not realize how globally relevant her field would quickly become.
With climate change and the pandemic frequently making headlines, the new Strategic Communication faculty member is excited to be at the University of Missouri, where she can help build the School's profile in science communication while continuing her research and the public's reaction to it.
"I'm looking forward to starting new research projects and working with the faculty members and the students here," Rose said. "I'm really interested in the practical, hands-on Missouri Method, how that works in real life and how that can enhance the teaching and learning experience."
Rose earned her Bachelor of Science and Master of Science from The Ohio State University in 2012 and 2014, respectively. She then graduated with her doctorate in Mass Communications from the Department of Life Sciences Communication at the University of Wisconsin-Madison in 2019. Most recently, she was a Postdoctoral Fellow in Science Communication and lecturer in the Institute for Writing and Rhetoric at Dartmouth College from 2019 to 2021.
Rose began her undergraduate degree with an interest in trying to figure out big issues like climate change and the degradation of natural environments, and what people could do about it. While she was still in undergrad, she took a social science class that looked at the role that people play in environmental issues including how their attitudes, history and the information they receive impacts what they do about their environmental behaviors.
"I started getting much more interested in less of the natural resources side and more of the people side," Rose said. "That then became the focus of my master's, and what I am still interested in today."
Her master's project focused on looking at smoke emissions from controlled burns in national forests. She evaluated how the smoke emissions impacted people's perceptions of whether or not it's acceptable to burn wild lands to get them back to their more native, natural habitat.
"We see how smoke emissions can have huge effects on people from the wildfires happening right now," Rose said. "Even though we know controlled burns have huge economic and ecological benefits, and they reduce the likelihood and severity of future wildfires. But that one short-term impact of the smoke, really derails the acceptance of them."
As for joining the School of Journalism faculty, Rose is looking forward to mentoring students, specifically graduate students interested in science communication.
For her doctorate, she wanted to broaden her studies to science more generally, and not just the environment. That included health issues, new technology developments and even bigger concepts like science literacy and understanding.
"I now look at how people's attitudes and their understanding of science impacts the way that they view the world and science specifically," Rose said. "So anything from how that can affect vaccine acceptance or if people prioritize taking action on climate change. Or even for how new technologies like GMOs and human genome editing will be accepted in the future."
As for joining the School of Journalism faculty, Rose is looking forward to mentoring students, specifically graduate students interested in science communication. She and new strategic communication faculty member, Zachary Massey, are currently designing a graduate-level class for veterinary medicine, health professions  and journalism students that is focused on science communication.
"It's critically important for us to collaborate with those in other STEM-related fields as we bring an expertise with communication — both in theory and practice — that these disciplines often don't have," said Jon Stemmle, professor and chair of Strategic Communication. "To be able to offer a class that deals with how to battle miscommunication, explaining research and findings in plain language and other elements of science communication to the next generation of scientists and health professionals is a great opportunity for everyone involved."
Rose cites her doctoral advisor, Dr. Dominique Brossard, from the University of Wisconsin-Madison, as her biggest mentor. The fact that she was a woman in science and high up on the academia ladder really impacted her.
"Being able to work with another woman who has her own perspective and insight into what it's like in our field has been incredible," Rose said. "And on top of that, she's well-known, an excellent researcher and a great teacher. She showed me the responsibility that comes with being a faculty member."
Thus far in her career, Rose is most proud of the many different research projects she has been able to be a part of, many of them published in peer-reviewed journals including "Proceedings of the National Academy of Sciences," "Science Communication" and "Public Understanding of Science."
"I've been able to work with incredible researchers so far which is always an honor," Rose said. "And I can't wait to start working with the really well-known researchers here at Mizzou."
Updated: September 28, 2021
Related Stories
Expand All
Collapse All
---