A New $1.5 Million Grant Will Fund Far-Reaching Science Communication Projects
MU Journalism and Science Students Will Collaborate on How to Share Complex Information with the Public
Columbia, Mo. (May 24, 2010) — Today's media environment has created an unprecedented opportunity for scientists to communicate directly with the public about promising advancements. Now, part of a new $1.5 million grant from the Howard Hughes Medical Institute (HHMI) that begins this fall will fund an interdisciplinary program for University of Missouri journalism and science students to help them learn how to share information that is often complex and difficult to understand.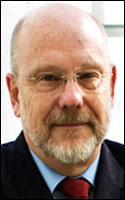 "Communicating in understandable ways has not been part of the normal training of scientists," says Jack Schultz, an MU professor of plant sciences and the HHMI program director. "We're going to try to change that. We want people to understand the value of what we're doing."
A select group of MU science majors in their sophomore, junior and senior years will receive support to do full-time summer research plus spend part of two semesters in a research lab. These Hughes Fellows will meet weekly with journalism graduate student mentors to read and discuss popular news media reports of topics related to their research area and understand how the lay media reports scientific information.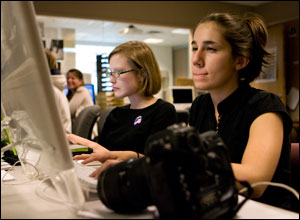 Missouri School of Journalism undergraduate students will be embedded in research labs with the Fellows, and all will collaborate to create and contribute to the Online Media Lab. This electronic multimedia news service will report on lab research results, translate complicated science journal findings into plain language, and communicate about other project news using student-produced print stories, videos, podcasts and blogs. The students will also use social media tools, such as Facebook, Twitter, YouTube and Flickr. The National Newspaper Association will make the students' stories available to more than 2,400 U.S. newspapers, and a media tracking service will determine which of their stories are picked up by the press or viewed online.
"By placing science students in a media lab and journalism students in a science lab, the students will gain a new perspective and have a better idea of how they each approach communication and do their jobs," said Jon Stemmle, associate director of the HCRC who will run the Online Media Lab and a summer journalism workshop. "The program will allow the undergraduate researchers to discuss their research with the public using whatever form of communication works best, be it a traditional print story or something new like an audio slideshow."
Journalism students interested in covering the specialized fields of science, health, environment and engineering may elect to enroll in the "Science and Health Journalism" interest area. The program prepares students for jobs as journalism professionals at newspapers, magazines, online publications and radio-television operations.
Updated: May 11, 2020
Related Stories
Expand All
Collapse All
---