Kate Robbins wins the 2020 Don Romero Prize for Magazine Writing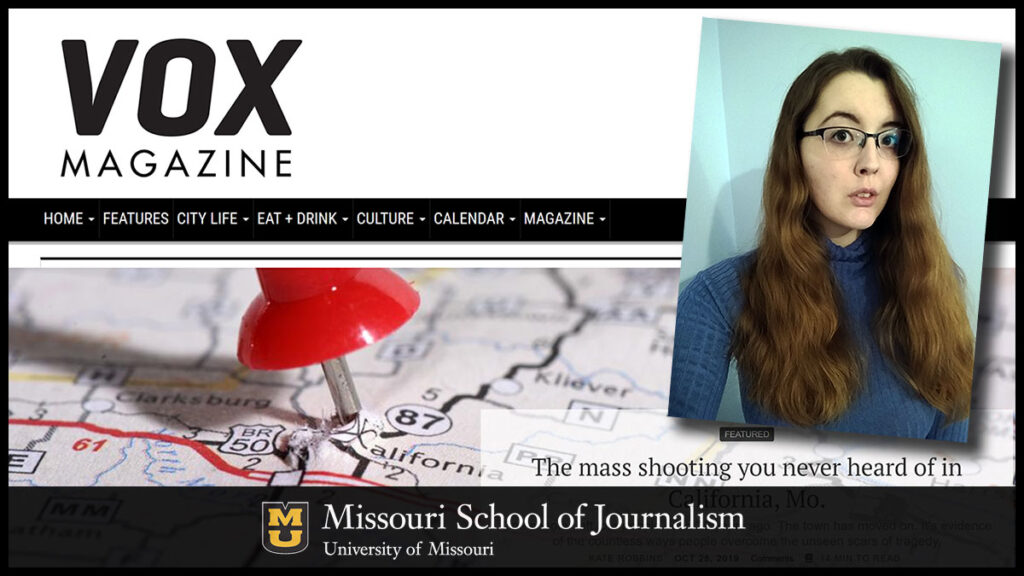 Senior Kate Robbins of California, Missouri, received the 2020 Don Romero Prize for Magazine Writing for three articles she wrote for Vox Magazine as part of her Intermediate Writing class.
Story submissions taught recipient how to dig through records, not overwhelm readers with too many names and dates
Columbia, Mo. (April 21, 2020) — Senior Kate Robbins of California, Missouri, is the recipient of the 2020 Don Romero Prize for Magazine Writing. Her prize includes a $1,200 cash award.
Funding for the Romero Prize is donated by two graduates of the Missouri School of Journalism in honor of the late Don Romero, a former faculty member, who excelled at magazine writing and editing not only in the classroom, but also as a professional before moving to Columbia, Missouri. The award acknowledges Romero's contribution to and his encouragement of outstanding magazine journalism.
Meet this year's winner
During her career at MU, Robbins, who is majoring in magazine writing, has completed communications work for the State of Missouri, as well as the Health Communication Research Center at the Missouri School of Journalism. She has also helped with archival preservation for the Missouri State Historical Society.
Robbins received the award for three articles she wrote for Vox Magazine as part of her Intermediate Writing class.
Robbins wrote an article about a mass shooting in her hometown that covers the three-day shooting spree that happened more than 30 years ago, as well as her relationship to the town and with grief after her own mother passed away in 2003.
The article made the cover of Vox Magazine and placed ninth in the William Randolph Hearst Foundation's Journalism Awards Program in the college feature-writing category.
Robbin said writing the article came with the challenge of driving to different towns to find and "slog through" several court reports and newspaper archives.
But she said she is grateful for the editors who helped her throughout the process of writing the article, from finding court reports to figuring out what to write about and learning how to weave parts of her own story into the article.
"All the editors I had were incredible," said Robbins. "In Jennifer Rowe's class I had originally pitched a story about abandoned cemeteries and had just told her the story about the shooting in passing but she immediately recognized that it was a much better story and steered me that direction. I also did a bulk of the research in that class and she was helpful about pointing me where to get court records and the like."
"Kate Robbins' work underscores the power of a strong personal voice," one of the judges noted. "Her perspective strengthens her narrative, serving as a rhythmic counterpoint to the dramatic public tale of murder in a small town. Her piece stands out in its elegant prose, layered story structure and timeline, as well as solid reporting. Her lyrical descriptions build to a powerful climax that creates an atmosphere of gothic inevitability. And then, of course, there's her own personal reflections, which are both wise and unsentimental."
Robbins helped co-author a small part of a longer feature article about different historical buildings and streets in Columbia.
She said the story provided her a good opportunity to help people get interested in history, which included knowing what details to include and which ones to leave out.
"I think this was a good exercise in using narrative to spice up a story that could have just been a lot of names and dates, and that's a good skill to have for future stories," she said.
She said one thing she enjoyed about writing the article was the reminder of how much a person can learn about their community as a journalist.
Robbins interviewed local authors about their favorite books from the Unbound Book Festival, as well as information about their own books.
She said the article was fun to write because she could hear the passion coming across from the authors she talked to, which made the article easier to write.
Robbins hopes to teach English in China for a year or two after she graduates in May and then study creative writing in graduate school.
Updated: November 11, 2020
Related Stories
Expand All
Collapse All
---