J-School Grad Garners Literacy Award
Columbia, Mo. (April 9, 2004) — Maggie Rotermund, BJ '02, won first place in the Arkansas Associated Press Managing Editors feature award contest in the 25,000 and under circulation category for her story in The Baxter Bulletin in Mountain Home, Ark. The same piece earlier won first place in feature writing in the 2003 Southern Newspapers Publishers Association's Literacy and Newspapers in Education Contest She serves as a politics and county government reporter for the paper.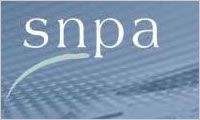 Rotermund's story featured an 84-year-old man learning to read and his lifelong battle with illiteracy. Rotermund was praised by judges for her detailed reporting and sensitive writing.
Rotermund attributes her award to the standards she learned while attending the Missouri School of Journalism. "MU gave me skills, experience and preparation for the real world. I didn't need time for a learning curve when I started here," she said.
Those skills put her ahead of her co-workers. "I learned so much about the world, and about journalism as a whole, that I came in with much more knowledge than some of my co-workers who have been working in the journalism field for years," Rotermund noted.
Rotermund was honored on the front page of her paper with a picture of the award she won by the SNPA foundation.
The SNPA Foundation's Literacy and NIE Awards recognize outstanding feature reports produced by newspapers to promote literacy, literacy awareness and Newspapers in Education. The contest is designed to facilitate the sharing of ideas and best practices among participating newspapers.
Updated: April 28, 2020
Related Stories
Expand All
Collapse All
---