Robert Mays III Wins 2010 Atwater Prize for Writing
Columbia, Mo. (May 6, 2010) — Magazine journalism senior Robert Mays III is the 2010 winner of the Atwater Prize for Writing.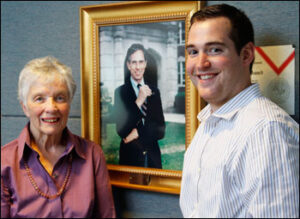 His winning story, "Road to the pros," is a profile of the University of Missouri Tigers wide receiver Jeremy Maclin; "Colorado's buffalo tradition more than just a sprint," about the University of Colorado mascot; and "Going back to Soldier Field," about the first Chicago Bears game he saw after the death of his father. The stories were published in the Columbia Missourian.
Jeanne Abbott, Missourian managing editor and a judge this year, said Mays shows considerable range in his writing. "He can do serious, he can do personal, he can do dialogue and and he can do first-person," Abbott said. "He's just able to manage whatever style and tone fits his subject."
Mays, who will graduate next week, will intern this summer in the sports department of the Boston Globe.
He came to MU for journalism, decided to study law, then changed his mind again. "I spent a semester with Greg (Bowers) and a semester with Jacqui (Banaszynski) and decided I couldn't not do this. I had to do this," he said. "I love telling people's stories. It's just incredible for me." Bowers and Banaszynski both serve as print and digital news faculty members.
This year, Mays also won another School of Journalism award, the Don Romero Prize for outstanding magazine writing, and placed second for personality/profile in the national Hearst Journalism Awards Program. He greatly prefers reporting, in which he can get to know people, over writing, which he calls "a terrible, terrible process."
Mays' reporting stood out for judge Pat Smith, managing editor of Global Journalist. "The content is there. It's very good, and it's very thoughtful, and then he makes it all very readable," she said.
Mays receives $600 and a copy of Eudora Welty's memoir "One Writer's Beginnings," which was a favorite of the late Jim Atwater, former dean and faculty member of the Missouri School of Journalism. This annual prize is given in memory of his love of writing, Missouri's journalism school and its students.
Updated: May 11, 2020
Related Stories
Expand All
Collapse All
---