Missouri Journalism Student Named 'Air Force Writer of the Year'
Traci Howells Will Now Compete Against Entrants from the Army, Navy and Marine Corps, for the Top Award in the Print Journalist of the Year Category
Update April 26, 2016:
Traci Howells won second place for the Military Print Journalist of the Year. She competed against active duty, Reserves and National Guard journalists from all Department of Defense services to include Air Force, Marines, Navy and Army. Maj. Sandra Stover of the Army National Guard said it's rare for a citizen-airman to win such an honor, especially when competing against active duty forces. "Traci represents both Mizzou and the Missouri National Guard incredibly well, to say the least," Stover said.
Jefferson City, Mo. (April 5, 2016) — A Missouri School of Journalism student recently received top honors in an annual military public relations contest.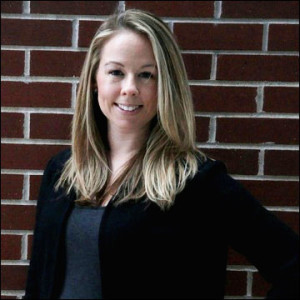 Traci Howells, a senior journalism student and technical sergeant with the Missouri Air National Guard was named the 2015 Air Force Military Writer of the Year. Howells' work first competed against more than 80 other units nationwide in the Air National Guard-level competition where she earned Military Print Journalist of the Year and placed second in the News Article category of that competition.
The Print Journalist of the Year category requires a portfolio of entries across a variety of different genres, which have to be exceptional in quality both individually and collectively, said Maj. Jeffrey Bishop, 131st Bomb Wing public affairs chief.
"We have a lot of talented Airmen who always put forth their very best effort to showcase their units' missions through the stories that they tell," Bishop said. "This is the first time we've taken the Air Force-level prize for Military Writer of the Year, and I'm proud that the prize was earned by our very own Tech. Sgt. Traci Howells."
Her entry will next compete at the Department of Defense level against entrants from the Army, Navy and Marine Corps, for the coveted "Thomas Jefferson" award in the Print Journalist of the Year category, he added.
Howells currently serves as a photojournalist with the 131st Bomb Wing at Whiteman Air Force Base. She spent almost 13 years serving the Air Force in a full-time capacity before making the transition to full-time student and part-time Airman. She studies strategic communication at the Missouri School of Journalism and will graduate with a Bachelor of Journalism degree and a certificate in sales and customer development in May 2016. Howells is a member of the Mizzou Student Veterans Association and currently serves as the associate vice-president.
As part of her winning package, she included a first-person commentary on her experience in both the military and academia, titled "Graduating from the College of the Wild Blue Yonder."
Each year, military public affairs professionals have the opportunity to submit their work in more than 50 categories. The Missouri National Guard's public affairs team has a tradition of success in the contest, due in part to the Soldiers and Airmen using their civilian experience to thrive in a military environment, said Maj. Sandy Stover, director of public affairs for the Missouri National Guard.
"One of the great things about being in the Guard is how the military experience can serve to enhance the civilian career, and vice versa," Stover said. "Our Guardsmen are consistently challenged to use their skills to support the mission, which results in great success, both personally and professionally. Tech Sgt. Howell's achievement is a great example of the hard work, dedication and skill of our journalists who tell the story of the Missouri National Guard."
Updated: September 22, 2020
Related Stories
Expand All
Collapse All
---