Biography of Quad/Graphics Founder Published by Journalism Professor
Columbia, Mo. (Sept. 1, 2006) — "Ready, Fire, Aim," a new book by Missouri School of Journalism Associate Professor John Fennell, is a business biography on the life and legacy of printing industry icon Harry V. Quadracci.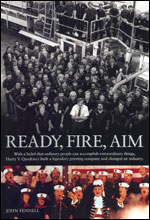 Fennell, a member of the magazine journalism faculty and former editor of Milwaukee Magazine, wrote the book after the founder of Quad/Graphics died in a tragic drowning accident. Quadracci started the company with 11 employees in the then-rural community of Pewaukee, Wis., in 1971. After signing its first major contract with Newsweek in 1977, Quad/Graphics grew rapidly to becoming the third largest printer in North America. Today, the company's clients include Time, Sports Illustrated, Playboy, National Geographic, People and other noted magazines and catalogs.
"Harry Quadracci became an industry icon through his intuitive business sense," Fennell said. "Instead of 'ready, aim, fire,' he believed you simply had to jump in and do things — 'ready, fire, aim.' That's how he operated his company."
Betty Quadracci, Milwaukee Magazine publisher and Quadracci's widow, asked Fennell to write the biography while he was an editor at the magazine. Fennell joined the School's faculty in 2005 as the Meredith Chair in Service Journalism.
Fennell, who teaches magazine publishing and intermediate writing, said the biography serves as an example for students who are questioning their future in journalism. "His life proves that we can all rise above our own limitations," he said. "Students often come into my classroom with doubts and fears about their abilities. The book shows us that if you have a sense that you can do something, you can."
Updated: April 10, 2020
Related Stories
Expand All
Collapse All
---