Public Relations Text Published by Journalism Professor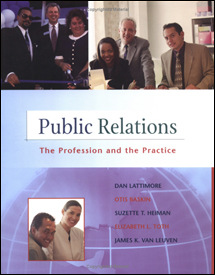 Columbia, Mo. (Nov. 12, 2003) — Public Relations: The Profession and the Practice, a new textbook by Missouri School of Journalism professor Suzette Heiman and four other journalism professors, presents a comprehensive and inclusive overview of public relations.
Public Relations: The Profession and the Practice depicts information in a four-part organization to ensure that students will gain a thorough understanding of public relations and a basis for successful practice today and in the future. The book provides a clear study of the process of public relations, with a strong theoretical basis and a balanced tone. New technologies are covered and public relations is addressed from the perspective of overall organizational decision-making. Mini-cases provide insight into real-time activities conducted by organizations. An integrated case study throughout the four chapters in the public relations process section integrates the research, strategic planning, implementation, and evaluation steps.
Heiman serves as the School's director of planning and communications. She is a member of the Advertising Department and is an accredited member of the Public Relations Society of America. Her professional background includes public relations and advertising for nonprofits, as well as serving as a consultant to industry.
Updated: April 28, 2020
Related Stories
Expand All
Collapse All
---