Journalism Graduate Student Published with News21
Stevie Mathieu Collaborated on Multimedia Story about Transportation Safety
By Amy Brachmann
Master's Student
Journalism graduate student Stevie Mathieu was one of 11 students, each from a different university, who spent 10 weeks of the summer at News21, collaborating on a 23-story multimedia investigation into transportation safety in America. The project, based at Arizona State University, was produced under the direction of faculty from ASU's Walter Cronkite School of Journalism and Mass Communication and Center for Public Integrity data researchers.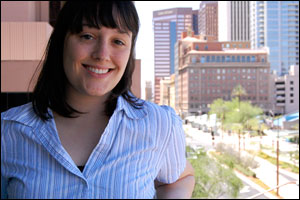 Mathieu found out about News21 through an e-mail to all Missouri journalism students and applied online. During the spring semester, she did background research on transportation safety and talked to her News21 team on weekly conference calls before heading to Phoenix for the summer.
The Washington Post and MSNBC.com published the package the first week in October. It included 23 news stories, as well as dozens of photos, videos and interactive graphics. News21 reporters traveled across the country and to Canada and Mexico to interview hundreds of government officials, industry leaders, safety experts and accident victims and to analyze thousands of documents.
The investigation identified many problems with transportation in the U.S., such as safety recommendations that aren't enforced, recommendations that are ignored and excessive time taken to address recommendations. These problems have resulted in train, automobile, boat and aircraft accidents, deaths and injuries that could have been avoided with better safety, maintenance, technology or management of fatigue.
"This project shows what a group of smart student reporters can do when given time, resources and guidance," said Kristin Gilger, associate dean of the Cronkite School. "This distribution of university-produced content by two of the world's major news organizations is unprecedented."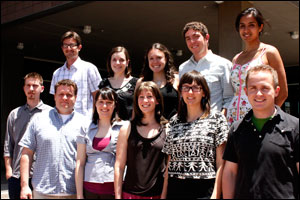 Mathieu worked on two in-depth stories about aviation safety. She traveled to Mexico City, Arizona and Washington for reporting and also took some photographs that were used in the project. She worked closely with Gilger at ASU, reporters at the CPI and former Washington Post executive editor Len Downie.
"They were all a wealth of knowledge and taught me many ways to obtain the information I needed for my stories," she said.
"Student journalists, with the right teachers, are capable of not just producing major investigative stories, but doing them in new, innovative ways," said Eric Newton, vice president of Knight Foundation's journalism program. "News21 shows that journalism schools have a role in the future of news – that they need not be the caboose of America's news train but instead can be an engine of change. By using their work, leading news organizations are agreeing that these schools indeed have something special to offer."
In addition to the MSNBC reference on her resume, Mathieu valued the new experience she gained from the summer.
"News21 allowed me to tackle a long-term journalism project that relied heavily on computer-assisted reporting," she said. "It helped me develop a stronger passion for investigative journalism and computer-assisted investigative journalism in particular."
News21 is a journalism initiative funded by the Carnegie Corporation of New York and the John S. and James L. Knight Foundation of Miami in partnership with the Center for Public Integrity.
"News21 is training the best young men and women to successfully employ innovative 21st-century technologies and become both nimble and effective journalism practitioners in a relentless – and endless – news cycle that competes for audience attention 24-hours-a-day, seven-days-a-week," said Vartan Gregorian, president of the Carnegie Corporation. "These young journalists are learning to practice their craft at the cutting edge of the 'new' news business, which must figure out how to adapt to the realities of online media and adopt its most successful practices while not falling victim to its worst."
Updated: May 14, 2020
Related Stories
Expand All
Collapse All
---