Woelfel to Be the First Missouri Journalism Faculty Member Inducted into Elite "Silver Circle"
By Kate Greer
Columbia, Mo. (Oct. 11, 2006) — Stacey Woelfel, a radio-television journalism instructor and news director for KOMU, will be inducted into the Silver Circle of the Mid-America Chapter of the National Association of Television Arts and Sciences at the 30th Anniversary EMMY Gala on Oct. 28 in St. Louis. He is the first Missouri Journalism faculty member to receive the honor.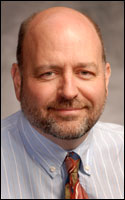 The Silver Circle is an elite group of professional journalists who have made significant contributions to television. Woelfel has spent 16 of his 20 years at the Missouri School of Journalism as news director for KOMU. The station is the only university-owned, network-affiliated commercial television station in the United States that uses its newsroom as a working lab for students. Recognized throughout the journalism profession as the premiere training ground for television reporters and producers, KOMU's newsroom creates a real-life lab experience for students attending the School.
Woelfel, who was unaware of his nomination, received the news in a surprise announcement during a live newscast.
"I thank everyone who has said 'congratulations' and had anything to do with the nomination, and for keeping me around this long," Woelfel said.
The students who work with Woelfel on a daily basis are not surprised by the honor. They praise Woelfel's news judgment and management style while working with student journalists.
"Stacey is definitely an amazing resource. He is knowledgeable about every aspect you could imagine from politics to the economy, and he has incredible news judgment," said Rehab El-Buri, a radio-television journalism senior who has worked under Woelfel for two years. "One thing I really appreciate about working with Stacey is that he'll teach from a distance. He'll give you the room to work and learn and develop."
Earlier this year students selected Woelfel to receive a 2006 Excellence in Education Award at the University of Missouri-Columbia, a recognition given to faculty members who have made significant contributions to students' learning experiences.
Woelfel said educating beginning journalists is an essential part of being a news director at KOMU.
"By the time they graduate, I want students to be independent thinkers who aren't swayed by the pressures on reporters to go with the pack and do something that's flashy but doesn't have much journalism to it," Woelfel said.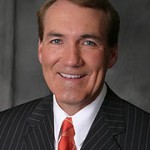 KOMU anchor Jim Riek describes Woelfel as an "unbelievable" journalist and colleague.
"He works extremely hard, and no one could be more deserving of the award than he is," Riek said.
Riek has worked with Woelfel for the past 10 years, and the two have shared some great journalism moments – from getting lost while chasing a lead in Mexico to being trapped in an electrical storm on assignment in New Mexico. Despite these adventures, Riek said that Woelfel's work ethic was better exemplified the day Missouri Gov. Mel Carnahan died in a plane crash in 2000. Both Riek and Woelfel were out of state on assignment but rushed back to Columbia to cover the story.
"I worked until 10 a.m. the next morning, which was 26 straight hours, and Stacey kept going," Riek said.
Woelfel, BJ '81, MA '90 (Political Science), PhD '06 (Political Science), first worked as a videographer for a television station in Orlando, Fla., upon graduation from the School. The job offered many notable assignments, including filming the first family ever to walk through the gates at EPCOT at Walt Disney World, riding in a Goodyear blimp and witnessing the explosion of the Space Shuttle Challenger.
During Woelfel's tenure as news director, KOMU has earned more than 100 awards, including a national Edward R. Murrow award for overall news excellence and four regional Edward R. Murrow awards for writing, news documentary, website and feature reporting.
---
Kate Greer, of Marshalltown, Iowa, is a senior in the strategic communication emphasis area with a double major in psychology. Kate will graduate in May 2007 and plans to attend law school. She is a member of the University of Missouri's cross country and track team.
Updated: April 13, 2020
Related Stories
Expand All
Collapse All
---