Woelfel Wins $10,000 O.O. McIntyre Professorship
Columbia, Mo. (May 31, 2007) — Radio-television instructor and KOMU news director Stacey Woelfel recently won the 2007 O.O. McIntyre Professorship for excellence in teaching given by the Missouri School of Journalism. The professorship carries a $10,000 salary supplement for the next academic year.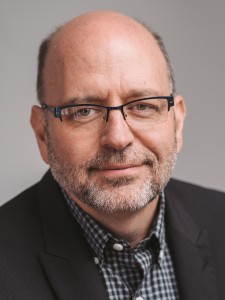 Woelfel, a 1981 graduate of the School, joined the faculty in 1986. For 21 years, he has mentored hundreds of students during their broadcast journalism education. KOMU is the only university-owned, network-affiliated commercial television station in the United States that uses its newsroom as a working lab for students. It is recognized throughout the journalism profession as the premiere training ground for television reporters and producers.
Nicole Agee, MA '06, now an anchor at KAAL-TV in Austin, Minn., said that Woelfel meets at least 100 students each year and does his best to help each one of them live up to his or her potential.
"Stacey took me under his wing while I was at Mizzou and was such a wonderful mentor and friend. He spent hours of his time to prepare me for a job I wouldn't have been hired for without his help," Agee said.
She continued, "He taught me to always challenge myself to be the best journalist and person I can be. Even though I'm one year into my first job, Stacey still offers feedback, encouragement and advice that continues to guide me in my career. I can't think of anyone else who deserves this award more than him."
While many of his students can attest to his dedication, Woelfel said he was "shocked" to receive the prestigious award.
"I'm honored to join so many legendary professors on the list of winners," Woelfel said. "The fact that the award is going to a newsroom faculty member shows the School's ongoing commitment to the real-world education of its students."
Before joining the School of Journalism, Woelfel began his career as a news photographer and assignment editor for WESH-TV in Orlando, Fla. While there, he covered stories ranging from the opening of the EPCOT Center at Disney World to the Challenger disaster.
Under Woelfel's leadership, KOMU has won national and regional Edward R. Murrow Awards, a Mid-America Emmy Award and a Payne Award for Ethics in Journalism. Personally, Woelfel has been honored with induction into The Silver Circle, an elite group of professional journalists recognized by the Mid-America Chapter of the National Association of Television Arts and Sciences. In 2006, he won MU's Excellence in Education Award.
The professorship is named after O.O. McIntyre, one of the most widely known New York columnists during the 1920s and 1930s. His column, "New York Day by Day," was syndicated to 508 newspapers in every state, Canada and Mexico. Born in Plattsburg, Mo., McIntyre was raised in Gallipolis, Ohio, where he got his start in newspapers as a reporter for $5 a week.
McIntyre died in 1938, and his widow left part of his estate to the Missouri School of Journalism. In her will, she established the O.O. McIntyre Postgraduate Writing Fellowship for senior and graduate student writers and the O.O. McIntyre Professorship to recognize outstanding educators.
Winners of the O.O. McIntyre Professorship include:
Updated: August 28, 2020
Related Stories
Expand All
Collapse All
---