Four Journalism School Alumni to Receive Mizzou Alumni Association's 2007 Faculty-Alumni Awards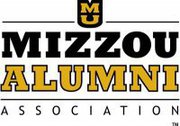 Columbia, Mo. (Sept. 25, 2007) — The Mizzou Alumni Association will honor four Missouri School of Journalism alumni with 2007 Faculty-Alumni Awards during a ceremony on campus Oct. 5.
For more than 40 years, the Association has recognized distinguished faculty and alumni with the awards for their contributions to the University. The awards focus attention not only on outstanding faculty members and alumni themselves, but also on the vital relationship between faculty and alumni in promoting the best interests of the University. Sixteen faculty members and alumni will receive awards this year.
The winners from the School of Journalism are: John K. Anderson, BJ '87, a broadcast sports anchor from Canton, Conn.; Doug Crews, BJ '73, executive director of the Missouri Press Association in Columbia; Lewis W. Diuguid, BJ '77, a newspaper executive in Kansas City, Mo.; and Walter H. Harwell Jr., BJ '51, a newspaper executive in Port Orange, Fla.
"Our alumni are known around the globe for their professional excellence as well as their dedication to their alma mater," said Esther Thorson, acting dean of journalism at the School. "John, Doug, Lewis and Walter are perfect examples of the tireless service our alumni continue to give back to this School and our students even decades after earning their degrees."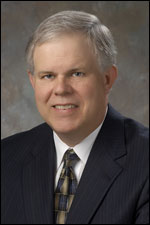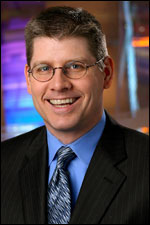 John K. Anderson, BJ '87, is one of the main anchors on ESPN's flagship program, SportsCenter. He has won two Emmys for his work on ESPN and covered both the Super Bowl and the NCAA Final Four for the network. A role model who holds many students' dream job, Anderson is an inspiration and contributor to the School of Journalism. In 2003, he began sponsoring an ESPN/Missouri internship for one journalism student every summer. Anderson served on the School's national campaign committee and has created an endowment in his parents' name.
Doug Crews, BJ '73, is executive director of the Missouri Press Association. Crews began his journalism career in high school in his hometown, Odessa, Mo., and went on to edit four Missouri weeklies. In 1979, he joined the press association, where his leadership has won him national recognition as a consensus-builder. He lobbies legislators on behalf of the Missouri Sunshine Law and open government and has won numerous awards for his work. Crews is a past president of the Mizzou Alumni Association.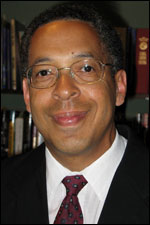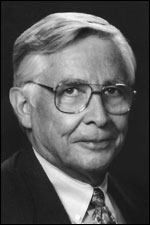 Lewis W. Diuguid, BJ '77, is vice president for community resources at The Kansas City Star. He also is a columnist at the paper, a member of the editorial board and co-chair of the Star's diversity initiative. As a certified diversity facilitator, Diuguid frequently shares his knowledge with corporations, community groups and schools. He has funded scholarships to help students of color become working journalists. Diuguid is a former member of the Mizzou Alumni Association's board of directors and communications committee.
Walter H. Harwell Jr., BJ '51, led Knight-Ridder's small- and medium-sized newspapers through the technological and content revolutions of the 1970s and 1980s. He worked as a reporter, photographer, editor, managing editor, general manager and publisher before retiring in 1995 as senior vice president for operations at Knight-Ridder, which was acquired by The McClatchy Company in 2006. In retirement, Harwell has taught classes in management and editing. He is currently president of the School's Missourian Publishing Association Board, which oversees the operations of the Columbia Missourian, a community paper that also functions as a working laboratory for journalism students.
Updated: April 28, 2020
Related Stories
Expand All
Collapse All
---