Special Olympics Missouri names Novak Leadership Institute its 'Outstanding Organization' for 2019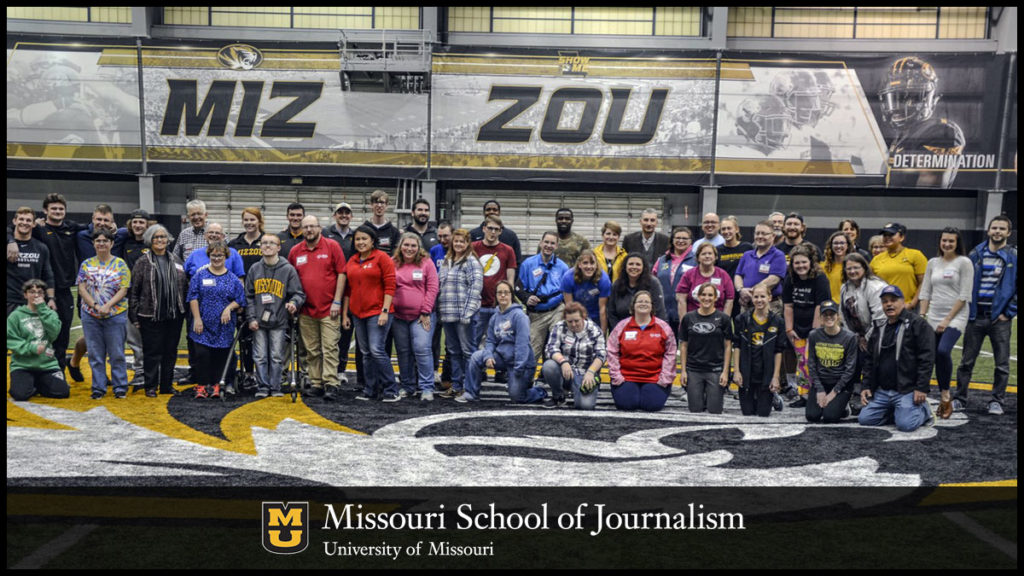 As part of their strategic communication coursework, Missouri Journalism students attached to the Novak Leadership Institute volunteer more than 1,500 hours doing primary and secondary research and assisting at Special Olympics Missouri events.
Jefferson City, Mo. (Dec. 18, 2019) — Special Olympics Missouri (SOMO) has named the Novak Leadership Institute (NLI) at the University of Missouri an "Outstanding Organization" for 2019. Brandon Schatsiek, Multimedia and Athlete Leadership Manager for SOMO, said the three-year partnership of SOMO and NLI has been fruitful for all of SOMO's constituents and for students at the Novak Institute.
"Each semester since spring 2017, Novak students have taken on projects to benefit our programs and the results have been remarkable," Schatsiek said. "In addition, every year, Novak students volunteer more than 1,500 hours doing primary and secondary research, helping at our events and more."
As part of the course "Strategic Communication Leadership," taught at the Missouri School of Journalism, students undertake a hands-on service learning project. Most recently, teams developed actionable strategies to develop a culture at SOMO where key groups (families, coaches, volunteers and staff) are recognized and celebrated for their meaningful contributions.
"As we have seen each semester, the students provide real-world solutions for obstacles and opportunities our athletes and organization face," Schatsiek said. "They provide invaluable research that we simply don't have the time nor resources to do ourselves."
As part of the SOMO/NLI partnership, each March the University of Missouri hosts athletes on campus with courses in communications, coaching, technology, leadership, life skills, and health, through SOMO's Athlete Leadership Programs University.
Brandon Butcher, NLI associate director, said Novak students were enthusiastic about the partnership.
"They love the opportunity to interact with the SOMO community and engage with the challenges facing the organization," Butcher said. "We as professors and our students learn so much from the athletes, volunteers, and SOMO staff. It's truly a win-win and we're very proud of the ongoing relationship."
For more information about the partnership or photos from various events between the two organizations, email Schatsiek@somo.org or ButcherB@missouri.edu.
About the Novak Leadership Institute
The Novak Leadership Institute at the Missouri School of Journalism was created with a generous gift in 2017 from MU alumni David and Wendy Novak and the Lift a Life Foundation. The NLI offers an innovative approach to leadership education rooted in the principles of strategic communication and advertising. Courses educate students and professionals in leadership development, organizational culture and innovation. Its mission is to prepare lifelong leaders to make a positive and meaningful impact in their organizations and communities. For more information, visit novakleadership.missouri.edu.
About Special Olympics Missouri
Special Olympics Missouri is a year-round program of sports training and athletic competition for children and adults with intellectual disabilities. More than 16,400 athletes participate in 16 Olympic-type sports throughout the state. Special Olympics provides people with intellectual disabilities continuing opportunities to develop physical fitness, demonstrate courage, and experience joy as they participate in the sharing of gifts and friendship with their fellow athletes, their family and friends, and communities across Missouri.
Special Olympics Missouri is proud of our financial health, returning 85 percent of every dollar back to program services. We are privileged to be recognized with these honors: Better Business Bureau Accredited Charity, Charity Navigator 3-star rating and an inductee into the Missouri Sports Hall of Fame – Class of 2013. Thank you for trusting us with your donations, volunteer time and your goodwill.
Visit Special Olympics at www.somo.org. Engage with us on Twitter @somissouri; fb.com/specialolympicsmo; Instagram @somissouri.
Updated: November 11, 2020
Related Stories
Expand All
Collapse All
---