The Future of Journalism Is Here, MU Professor Says
Journalism Professor and Students Find New Mobile Journalism Software Ready for the Market
By Nathan Hurst
MU News Bureau
Columbia, Mo. (March 23, 2010) — Driven by constantly improving technology, the field of mobile journalism is rapidly expanding. A Missouri School of Journalism professor and convergence journalism students Erica Zucco and Brian Pellot studied the real-world applications of this technology by testing new mobile journalism software. Karen Mitchell, an assistant professor of convergence journalism, found a viable product with a growing market during the real-time test of the new mobile software and hardware.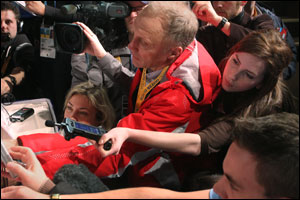 "With the acceleration of citizen journalism, bloggers need devices that allow them to work in the field without having to return to a station or a newspaper headquarters to edit their work," Mitchell said. "The products that exist now aren't perfect, but they do allow better journalism than what existed in the past."
Mitchell and her two students spent two weeks in Vancouver testing new equipment developed by a company named VeriCorder Technology, Inc. The two software programs they tested, VC Audio Pro and Showcase, allow a journalist to record and edit audio and photographs and combine them into a single news story using nothing but an Apple iPhone.
To test the software's real-world applications, the students reported on news stories at the Olympics, using nothing but their iPhones. The Vericorder equipment allowed the students to record interviews, take pictures, and edit final products before sending to be published online.
After spending time testing this most up-to-date mobile journalism technology, Mitchell believes the software components are advanced enough to allow professionals to enter the field of mobile journalism; however existing hardware is lacking. Mitchell says the iPhone camera quality is not yet up to par for professional quality.
"For the citizen journalist and blogger market, the current mobile journalism technology is right where it needs to be," Mitchell said. "For professionals, however, it still has a way to go."
Mitchell believes the future of journalism is shifting, becoming more and more mobile. She says with this shift, there may be a shift in the way companies think of journalism equipment.
"Right now you have a telephone with the ability to take pictures. What if a professional-quality camera had the ability to be a telephone or transmission device?" Mitchell said. "I think this is where the industry needs to go to maintain current professional quality standards."
Despite the current limitations, Mitchell says current mobile journalism software can still play an important role in reporting important news.
"In journalism, the person who is there, with any kind of camera, and gets the moment as it happens…that is priceless," Mitchell said. "One example is from 9/11, the picture of the second plane flying into the World Trade Center. It was not shot by a professional journalist, it was not the best quality, but it was shot by someone who was there, with equipment good enough to capture the decisive moment."
Mitchell, a 25-year veteran of photojournalism, joined the convergence journalism faculty in January 2008. She worked her way up through the management ranks of the Des Moines Register in photography, serving as photo editor, assistant director of photography and director of photography. Mitchell then moved to the Associated Press, first as assistant state photo editor in New York and then as state photo editor in Chicago.
Updated: May 7, 2020
Related Stories
Expand All
Collapse All
---