Strategic Communication Summit Highlights Evolving Media, Technology and Research
Industry Professionals, Faculty Gather to Discuss Needs of Today's Advertising and Public Relations Students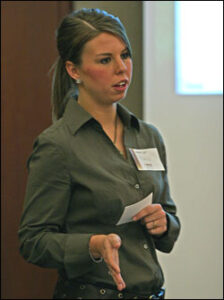 Columbia, Mo. (March 27, 2007) — Today's successful strategic communicator must be able to navigate as many platforms as possible, from print, radio and television media options to Web and online venues to viral marketing efforts. A group of Missouri School of Journalism alumni, faculty and other industry professionals recently addressed how this conclusion and other media challenges affect student training at the School's second Strategic Communication Summit held Feb. 27-28.
Eight guest professionals, from advertising, public relations and consulting agencies from Los Angeles to Chicago, worked with the School's strategic communication faculty to discuss how students can be prepared to face industry-wide issues such as reaching mobile audiences.
The Summit, along with frequent guest speakers, visiting professors and invited experts, helps ensure a vibrant, relevant curriculum, said Margaret Duffy, chair of the strategic communication emphasis area.
"Once again we were privileged to host some of the most accomplished and successful leaders in advertising and strategic communication," Duffy said. "Thanks to their insights and support, our Summit advisers help us continually create student experiences that make our graduates among the most sought-after in the world."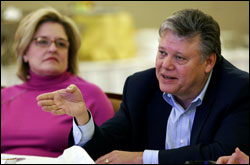 The goal of the Summit, first held in 2006, is to gather industry leaders and infuse their collective energy and expertise into the School's cutting-edge strategic communication curriculum.
Strategic communication faculty presented the group with highlights of the School's current program, including the success of MOJO Ad, the School's student-staffed professional advertising agency; the robust research agenda offered by the new Donald W. Reynolds Journalism Institute; the opportunities available through the School's International Programs office; and the role of emerging media and the convergence curriculum in strategic communication. In particular, the School's expertise in Youth and Young Adult (YAYA™) media offers advertisers, media companies, news organizations and others unique, research-based insights into this coveted demographic.
Summit participants included:
Kimberly Boyer, BS '78 (Business Administration)
Adamson Advertising, St. Louis, Mo.
Boyer is the executive vice president/director of the Advertising Division at Adamson Advertising in St. Louis and oversees work for Shoe Carnival, Applied Food Biotechnology and other clients. During her 25-plus years in advertising, she also has held management positions at Monsanto, Brewer/Young and Rubicam Advertising and Dearborn Manufacturing. Boyer is the architect of BrandSmartsm, Adamson's successful brand development process, and she serves as an adjunct professor in marketing at Washington University.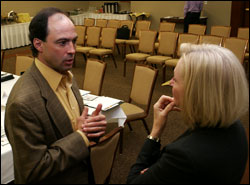 Art (BJ '54) and Susan Casper
Casper Creative Consulting, Houston, Texas
After brief stints in broadcast and newspaper journalism and military service, Art Casper opened his namesake agency in Houston in 1963 with no clients. Within two years, Art Casper & Associates was billing approximately $250,000. After selling and repurchasing his agency, now named Winius-Brandon, Casper and his staff grew the office to become the largest independent agency in Houston, with capitalized billings of more than $35 million and a staff of 56. He retired in 1995. Casper was also the producer and play-by-play announcer for University of Houston basketball for 28 years, including the broadcast of five Final Fours. Susan Casper started her advertising career while still a student at the University of Houston, having joined Winius-Brandon as a secretary her senior year. At Winius-Brandon, she rose rapidly from her secretarial position to assistant account executive, account executive and vice president/account supervisor, a position she held for 10 of her 25 years in the business. She left the business in 1995, three years after the merger of Winius-Brandon with Fogarty & Klein. In 2004, she joined the Houston Symphony Chorus, one of the outstanding musical organizations in the nation, with whom she performs on a regular basis.
Chuck Curtis, BJ '67, MA '70
Retired Chairman, Valentine Radford/Square One Advertising, Kansas City, Mo.
As chief executive officer of the Valentine Radford agency, Chuck Curtis oversaw the merger with Square One Advertising to create a top agency that handles advertising, media placement and sales promotion for Dr Pepper, Pizza Hut, the Dallas Cowboys, and other leading brands and companies. Curtis handled the advertising for Texas Instruments' introduction of hand-held calculators, digital watches and personal computers to their product line, and managed the introduction of 1,000 ATMs into all 7-Eleven stores in Texas. Curtis has led significant community initiatives to improve and advance the Kansas City area. He received the Missouri Honor Medal for Distinguished Service in Journalism in 2006.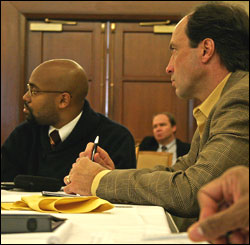 Danielle Hugger, BJ '03
Account Executive, Fleishman-Hillard, St. Louis, Mo.
Danielle Hugger is a member of Fleishman-Hillard's Marketing Communications practice group. She has experience in sports marketing, grassroots outreach, search engine optimization and retail marketing. Hugger joined Fleishman-Hillard in July 2003.
Larry Postaer, BJ '59
Executive Creative Director, Rubin Postaer Associates, Santa Monica, Calif.
Around the agency, Larry Postaer is called "the man." Not only is he the executive creative director, but he is the guru. Everybody's godfather. He communicates with a word where most use a sentence. Postaer has written copy for major accounts, including STP, Sears, Dr. Scholl's and Colgate, McDonald's, Dial soap, Wrigley's gum and Anheuser-Busch. He co-founded with Gerry Rubin his agency in 1986 and has received many of the industry's highest awards and recognitions.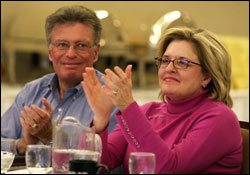 Lincoln Stephens, BJ '03
Regional Account Executive, Carol H. Williams Advertising, Chicago, Ill.
Although a fairly recent graduate, Lincoln Stephens has helped manage advertising for many national accounts. He now focuses specifically on African American advertising for Cadillac, Hummer, GMC and Chevrolet across multiple markets in the north central region of the United States. Stephens' community involvement has included the Urban League of Dallas, Rock The Vote, African American Leaders of Tomorrow and the YMCA. He is also a member of Kappa Alpha Psi Fraternity, Inc.
Terry Woodruff
Chief Executive Officer, Woodruff Communications, Inc., Columbia, Mo.
In 1992 Terry Woodruff founded Woodruff Communications, Inc. What began as a full service advertising, marketing and public relations firm in Columbia, Mo., has evolved to meet the changing industry wanting specialized marketing segments. Woodruff launched True Media Services, LLC, a full service media planning, placement and analysis firm; EVOKE Research, a projective research company; and WS Express, a retail-oriented advertising agency. Woodruff Sweitzer, as well as True Media Services, has offices in Columbia, Kansas City and Calgary, Alberta, Canada.
The next Strategic Communication Summit will be held during the fall 2007 semester.
Updated: April 16, 2020
Related Stories
Expand All
Collapse All
---