Strategic Communication Students to Benefit from $100,000 Scholarship Endowment
Alumna's Gift Helps Attract Out-of-State Students
By Emily Smith
MU News Bureau
Columbia, Mo. (Jan. 31, 2008) — Some out-of-state students have the desire to study strategic communication at the prestigious Missouri School of Journalism, but they need financial support to do so. Because of a generous gift by a 1946 alumna, those students will get their chance.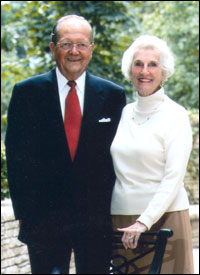 Louise Black Jadel, BJ '46, recently gave $100,000 to create an endowed scholarship for future Missouri Journalism students studying strategic communication, an emphasis area focused on advertising and public relations training.
"This generous gift will help worthy strategic communication students earn their degrees," said Jim Sterling, professor and chair of strategic communication. "We are always pleased when our J-School alumni share their successes and remember where they got their start. Hopefully the recipients of this endowed scholarship will have great success, too, and someday will be able to help future students of our school."
The gift supports 100 by 100: The Centennial Campaign for the Missouri School of Journalism, an effort to increase financial commitments to the School's endowment to $100 million by 2008. On Sept. 10-12, 2008, the School will celebrate its centennial and will look to the future by officially opening the doors of the Donald W. Reynolds Journalism Institute, the think tank and research operation for journalism of the 21st century.
Jadel said she was thrilled when she received an invitation to the School's centennial celebration; so thrilled, in fact, that it motivated her to give back to her alma mater. After a few phone calls and a trip to Columbia, Jadel decided to set up a scholarship fund.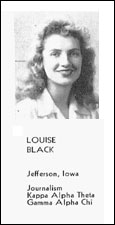 "When I came to Columbia this past September, I was so impressed by the excitement surrounding the School of Journalism," Jadel said. "The dean was especially enthusiastic, and I was overwhelmed by the growth of the school and the progress of the new buildings on campus. It was such an inspiration to me when I was a student; I felt that same inspiration, even more so, during my visit."
The first award will be given in the fall 2008 semester and will go to an out-of-state student with financial need. Jadel and her husband, Jack, hope that the scholarship will provide opportunities to students coming from other states who might not otherwise be able to attend the School.
"The School of Journalism provided the most stimulating classroom experience I have ever had," Jadel said. "It was exciting and hands-on every day. It is a pleasure for me to help students get that same experience today."
Jadel graduated with a degree in advertising, which now falls within the strategic communication program. After graduation, she worked in advertising sales for the Cedar Rapids (Iowa) Gazette for one year before leaving work to marry her husband, the late William H. Shaw, BA '47, and start a family. At the age of 43, Jadel decided to re-enter the professional world, working first for a suburban weekly and then for 14 years at the Chicago Tribune in advertising sales and management. She said she is looking forward to returning to Columbia in September for the School's centennial celebration.
100 by 100: The Centennial Campaign for the Missouri School of Journalism seeks to raise endowments to strengthen Missouri's position as the world's premier school of journalism. Endowment earnings benefit all areas of the School, including the media laboratories, faculty salaries, technology and scholarships. Outright contributions, estate commitments and planned gifts such as charitable trusts and gift annuities made before Dec. 31, 2008, will be recognized in the campaign total.
Updated: April 28, 2020
Related Stories
Expand All
Collapse All
---