Columbia Missourian Wins 11 Awards in the Associated Press Sports Editors Contest
By Erik Hall
Columbia, Mo. (March 21, 2013) — The Columbia Missourian has won 11 awards in The Associated Press Sports Editors contest.
The Missourian received top 10 honors in eight different categories in the national industry-wide contest, while being honored twice in three of the categories.
That nearly doubles the six awards received by the Missourian for its work in 2011.
"Absolutely outstanding. It would be a remarkable feat were this any newsroom in the country, much less a newsroom managed by professionals but staffed by students," said Tom Warhover, the Missourian's executive editor.
Winners will be honored at the APSE annual conference on June 29 in Detroit.
The Missourian swept the section and multimedia categories receiving top 10 honors in all four possible categories. The staff received two top 10 multimedia awards in the category under-50,000 unique views. The daily sports section was honored as top 10 with a circulation under 30,000. The Sunday sports section was named top five with under-15,000 circulation. The SEC Road Trip was named a top 10 special section at both under-15,000 and honorable mention in under-30,000 circulation.
The Missourian won five writing awards in the under-30,000 category (Feature Story, Explanatory, Breaking News, Project Reporting). Brendan Meyer and Sarah Bricker both were honored in the Feature Story category.
"I was really excited we won, especially the categories where we showed up twice, like Feature Story and Multimedia," said Greg Bowers, Missourian sports editor. "There are three section awards – daily, Sunday and special – and we showed up in all three of them. I was particularly proud of that."
Associated Press Sports Editors Contest Winners
Top row, left to right: Emily Becker, Katy Bergen, Sarah Bricker, Shaina Cavazos, Ben Frederickson, Brendan Meyer, Zach Murdock. Second row: Stuart Palley, Harry Plumer, Tony Schick, Eric Short, Mike Vorel, Andrew Wagaman.
---
Meyer, Andrew Wagaman and Stuart Palley all were honored twice. Meyer was part of the Breaking News team in addition to his Feature Story. Wagaman was honored for his Explanatory story titled "Remembering Mel West" in addition to being on the Project Reporting team that was honored. Palley worked on both multimedia projects that were honored, both of which were overseen by Assistant Professor Brian Kratzer.
Wagaman was also honored in 2011 in the Project Reporting category.
"He has three now, which is pretty incredible. I think there's a lot of people in the industry that would give their digital recorders to have three," Bowers said of Wagaman. "Brendan (Meyer) won two this year, and Stuart (Palley) won two. That is impressive. These students are in the resume-building stage of their lives. That stuff pops off your resume."
The APSE is a national organization that strives to improve professional standards for sports departments of professional news organizations and to recognize professional excellence among its membership. Membership is open to all daily newspapers, regardless of if those papers are members of The Associated Press. The APSE was formed in 1974.
The Missourian is a community news organization supervised by professional editors and staffed by Missouri School of Journalism students who do the reporting, design, copy editing, information graphics, photography and multimedia.
Here is a complete list of the award-winning work recognized by the APSE:
Feature Story (Under 30,000 circulation)
Top 10 – Brendan Meyer (Earnest Ross)
Top 10 – Sarah Bricker (John Lucas)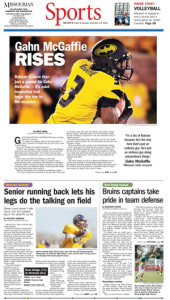 Explanatory (Under 30,000 circulation)
Top 10 – Andrew Wagaman (A Forgotten Tiger: Mel West)
Breaking News (Under 30,000 circulation)
Top 10 – Brendan Meyer, Shaina Cavazos, Zach Murdock, Mike Vorel, Jacob Kirn and Eric Short (Michael Dixon Leaves Missouri)
Project Reporting (Under 30,000 circulation)
Top 10 – Harry Plumer, Ben Frederickson, Andrew Wagaman, Tony Schick, Emily Becker, Katy Bergen (SEC Road Trip)
Multimedia (Under-500,000 unique views)
Top 10 – Stuart Palley and Emily Kaiser
Top 10 – Stuart Palley and Parker Miles Blohm
Sunday Sports Section
Top 5, (15,000 and under circulation)
Special Section (SEC Road Trip)
Top 5 (15,000 and Under)
Honorable Mention (30,000 and under circulation)
Daily Sports Section
Top 10 (30,000 and under circulation)
Updated: July 14, 2020
Related Stories
Expand All
Collapse All
---