Columbia Missourian Wins 18 Associated Press Media Editors Awards
Digital-First Community Newspaper Serves as Real-World Learning Environment for J-School Students
Kansas City (Feb. 1, 2019) — The Columbia Missourian has won 18 awards in the 2018 Associated Press Media Editors Newspaper Contest, including the General Excellence award for Division II, newspapers with a weekly circulation of 25,000-150,000, recognizing the newspaper with the most individual awards overall.
Nineteen newspapers submitted a total of 413 entries. The Missourian wins show "the tenacity of our reporters, the expertise of our faculty journalists and the success of the Missouri Method," said Ruby Bailey, executive editor of the Missourian and Missouri Community Newspaper Management Chair.
The Columbia Missourian is a community news organization supervised by professional editors and staffed by Missouri School of Journalism students who do the reporting, design, copy editing, information graphics, photography and multimedia. Missourian winners for the 2018 APME awards are as follows: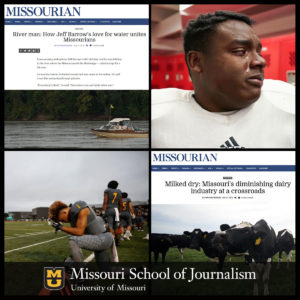 General Excellence Award
Division II: Newspapers with Circulations 25,000 to 150,000 Weekly
Feature Writing
Public Interest/Investigative or In-Depth Reporting
Sports Feature Writing
Spot News
Feature Photos
Graphics
First Place: Maria Callejon, "Mending Broken Hearts"
Third Place: Marilyn Haigh, "Leasing Land from Across the Country"
Photo Story
Sports Photos
Spot News Photos
The Associated Press Media Editors is a nonprofit, tax-exempt organization of newsroom leaders and journalism educators that works closely with The Associated Press to promote journalism excellence as well as a professional network for helping editors and broadcasters improve their news coverage and newsroom operations. Nationwide, the AP represents 1,400 newspapers and 5,000 broadcast stations.
Updated: August 15, 2019
Related Stories