Missouri School of Journalism Alumni Lead the Baghdad Bureau of The Associated Press
Adam Schreck, MA '07, Follows Lara Jakes, BJ '95, in Covering News from Iraq
By Erik Hall
Master's Student
Columbia, Mo. (Feb. 15, 2013) — The journalism training received by two Missouri School of Journalism graduates prepared them to be leaders in the Middle East.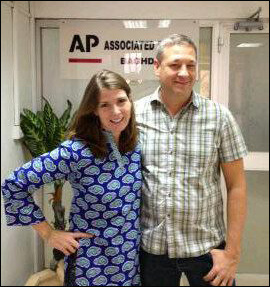 The Associated Press bureau in Baghdad is currently led by Adam Schreck, MA '07. He takes over for another Missouri graduate, Lara Jakes, BJ '95.
Schreck was named to the bureau chief position Jan. 8. He replaced Jakes when she accepted the job of AP national security writer in Washington, D.C.
"I've been making reporting trips to Baghdad since the start of 2010, so I've had a chance to see and report on how the country changed as the U.S. drew down its military presence," said Schreck. "The end of the war didn't mean an end to the story though."
Schreck leads a staff of more than 30 reporters, photographers, video journalists and support staff in Baghdad. Schreck joined AP on the business news desk in New York after graduating from Missouri in 2007. Before locating to Baghdad, he spent more than four years based in Dubai covering the business beat and other stories around the Persian Gulf.
"Iraq sits at the heart of a Middle East that is changing quickly and sometimes violently," Schreck said. "It still faces a lot of challenges as Iraqis try to rebuild and recover a decade after the war began. It is still an unstable, often surprising place in many ways, but that's what makes the story so interesting. Over time, Iraq's influence is only likely to grow as it pumps more oil and becomes richer as a result."
Schreck is a native of Bourbonnais, Ill., and received his bachelor's degree in political science and theology with a minor in international studies from Loyola University Chicago in 1998 before earning his master's degree from Missouri in 2007. His graduate studies focused on international reporting.
He has worked as a reporter and assistant city editor for the Columbia Missourian and as an online intern in The Wall Street Journal's Brussels bureau. In 2006, he received the School's Atwater Prize for his coverage of Hurricane Katrina and Enron's ties to MU. Schreck reported for the Los Angeles Times while participating in the School's Washington program. Before attending MU, he taught English for nearly five years in Europe and the Middle East.
Jakes has covered wars and sectarian violence in Iraq, Afghanistan, Israel and Northern Ireland for more than a decade. She joined the AP in 2002.
"I covered Iraq for three crucial years as it moved from war to self-rule with no American oversight," Jakes said. "I was assigned to Iraq to help cover the U.S. military troop withdrawal in December 2011 and the security and diplomatic process that preceded it. But I stayed for an additional year to see how – or if – the country could move toward a normalized Arab society after nearly nine years of occupation and conflict."
Jakes' coverage of the United States troop withdrawal touched on all aspects of life in Iraq.
"I covered frequent insurgent attacks and their aftermath; diplomatic and military relations between Washington and Baghdad; the Iraqi government and politics (in Baghdad and Kurdistan); and, perhaps most importantly, the people and culture of Iraq and how their attitudes and neighborhoods changed after the U.S. troops left," Jakes said.
Jakes worked as a national correspondent for Hearst Newspapers, and she spent five years at the Times Union newspaper of Albany, N.Y. rising to chief political writer before joining the AP. Since joining the AP, Jakes was part of a team that won a first-place award for coverage of the 2009 Fort Hood shootings from both the Scripps Howard National Journalism Foundation and the Associated Press Managing Editors Association.
The Associated Press was founded in 1848 and is the world's largest news organization. The AP has more than 4,000 employees working in more than 240 worldwide bureaus.
Updated: July 13, 2020
Related Stories
Expand All
Collapse All
---