Master's Student Gets Chance to Speak at National Sports Editors Conference
APSE Brings Panel Together That Includes Discussion of Missourian's Coverage of Michael Sam
By Erik Hall
Arlington, Va. (July 28, 2014) — I found myself at a loss for words.
It is a story I told a hundred times since February, but this was different. It was no longer one-on-one with someone I knew, or even being interviewed about it one-on-one. I sat on stage with a Pulitzer Prize-winning editor on my right talking to the sports editors from all the major newspapers in the country.
USA Today Assistant Managing Editor David Meeks turned to me to start the panel discussion, and the words were not there at first.
It felt like forever as I stumbled to begin telling how I started to work on the story for the Columbia Missourian that Michael Sam is gay.
Looking at the video now, it was only a few seconds until I got in the rhythm of retelling the story how I worked with Missourian sports editor Greg Bowers to be part of the biggest sports story so far in 2014.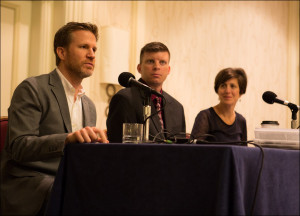 The Associated Press Sports Editors brought me to their annual conference to be part of a panel discussion on how to cover sensitive issues in sports. The panel titled "When is the story a story at all?" took place Friday, June 27, at the Marriott Crystal Gateway hotel in Arlington, Virginia. On the panel with me were Pulitzer Prize winner and New York Times sports editor Jason Stallman, BJ '97, and Poynter's Vice President of Academic Programming Kelly McBride, BJ '88, with Meeks as the panel's moderator.
I've been a member of APSE since 2012 when I joined while a sports copy editor at the Charleston, Illinois, Times-Courier/Journal Gazette. I've maintained my membership while working on my master's at the Missouri School of Journalism since 2013.
Gerry Ahern, the vice president of content for USA Today Sports and a former APSE president, emailed me on March 31 asking if I would be interested in being on a panel at their conference to discuss the ethics of reporting on sensitive information. His email said he was asking because "the Columbia Missourian had knowledge of one of the most talked-about sports stories of the year several months before it became public but chose not to publish it."
I talked to Bowers about the opportunity, and he supported me taking part in it. I also checked with Todd Adams, sports editor at the San Diego Union-Tribune, where I had an internship for the summer. Adams said he had been one of the people to recommend me for the panel and encouraged me to take the time off from my internship.
So that's how I ended up sitting on stage that June 27 morning.
The panel opened with me explaining how I came to talk to Michael Sam last August about him being gay. The email and text exchanges I had with him. The interview that I scheduled that Sam canceled an hour before after he talked with Missouri football spokesman Chad Moller.
Bowers detailed most of what we went through in his Missourian column that ran in February.
Stallman then talked about the New York Times' involvement in breaking the story with ESPN and OutSports.com in February. McBride talked about the ethics of reporting on Lesbian, Gay, Bisexual and Transgender athletes.
The panel slightly broached the topic of ESPN's story on transgender golf putter inventor Essay Anne Vanderbilt, but no one seemed too comfortable to tackle that topic. So the 90-minute discussion mostly focused on Sam and LGBT sports issues in general.
Near the end, the audience asked questions. The first few questions came from Missouri grads, so it became a running joke that only Missouri grads were allowed to speak in the session. It was impressive to learn the reach of this institution.
I was glad that during the panel I could mention Bowers, my adviser Jacqui Banaszynski and Missourian reporters Alex Smith and Matt Fairburn. They were all people who were key parts to how the Missourian handled the Michael Sam coverage.
Talking at the start made me nervous, but after those first few seconds, I felt comfortable. I am proud I was part of panel that brought attention to sports coverage of LGBT issues. This is not a topic that is going away in sports anytime soon. It will just occur more often, and I think this panel emphasized that reporting on someone's sexuality should always be handled with care.
Throughout the next two days of the conference, I received dozens of compliments from people who attended the panel. Many congratulated the Missourian for the way it handled covering Sam.
But as I told them, we just did what we felt was the right thing to do.
Updated: July 27, 2020
Related Stories
Expand All
Collapse All
---