Brendan Meyer and Michael Shaw Win Dean's Award for Sports Reporting in Mastering the Method Contest
Winning Stories Highlight MU Basketball Star Laurence Bowers and Football Lineman Michael Sam
By Rebecca Dell
Columbia, Mo. (March 7, 2014) — Brendan Meyer and Michael Shaw are the winners of the Dean's Award for sports reporting in the Mastering the Method contest at the Missouri School of Journalism.
The contest recognizes outstanding work by undergraduates in the areas of broadcast, multimedia, photography and writing. The top two winners in each of the 14 categories receive a $100 gift card and recognition from Dean Mills, dean of the School.
Meyer and Shaw's stories were chosen from among 21 entries.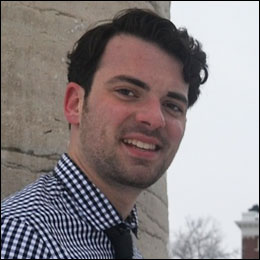 Brendan Meyer
Meyer's article, "Bowing Out," covers former University of Missouri basketball player Laurence Bowers' transition from college to training for the NBA. The story was published May 16, 2013, in the Columbia Missourian. Assistant Professor Greg Bowers was the supervising editor. Meyer, BJ '13, who studied print and digital news and is from Chicago, is currently on a road trip across America, documenting his travels at FrontSeatStories.com.
"Brendan takes us through an event almost none of us will ever experience – training for the NBA – and puts us there in human ways we can all relate to – late night talks with a girlfriend, naps during lunch breaks, getting so close to your dreams you can almost touch them," contest judges say of Meyer's piece.
Meyer shares the story behind his article:
I knew I wanted to write a story about Laurence Bowers, detailing his transition from graduation to the real world. There were many reasons why this story interested me, the biggest being that I felt I could relate to the story.
Bowers and I were both moving on from college. He had spent an extra year playing basketball at Missouri due to an injury, and I had spent an extra semester studying because I needed more credit hours. We both felt like we had gotten the most out of school, both were forced to watch our close friends of four years move on without us, both felt prepared to take that next step toward the unknown, even though all along, we both knew we would miss our time at Missouri.
I set up the first interview with Bowers at Mizzou Arena but did not use a pen, notepad, or recorder. Instead, we simply talked. I told him the position I was in, curious if he felt the same, and Bowers kept nodding his head. From then on, I was granted a unique amount of access with Missouri's fan favorite, because he could now see and relate to me more as a person, instead of just a reporter.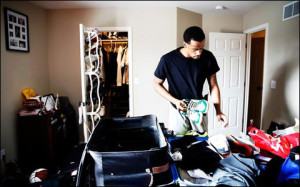 The day before Bowers left for Florida to start training for the NBA draft at IMG Academy, he invited me to his apartment for our first interview. Bowers told me he would be training for two weeks, and then would briefly return to Columbia to pack his apartment and leave for good. Our first interview went great, but I knew I needed more. I knew I wanted to start the story with Bowers' collegiate basketball career ending, and end it with the road to his professional basketball career beginning. That is the transition we all go through when we finish college. It ends, and then something begins.
But I thought it would be great if I could somehow capture that in-between phase.
While Bowers was in Florida for the two weeks, I kept in close contact. I spoke with his trainers and instructors at IMG Academy to see what they thought of his NBA chances. I also found another great source in Bowers' girlfriend, who was a steady constant in his life, especially during this transition.
Bowers briefly returned to Columbia two weeks later, and I knew one more scene was needed to end the story. He had already caught a glimpse of what his future could look like, and more importantly, had taken that next step from school.
Bowers told me his schedule was extremely busy, enough so that he did not think an interview would be possible. I started to think of other ways to end the story.
The day before he left for good, Bowers texted me to come over. I watched him pack, asked him a few more questions, he showed me the scrapbook that Rockie Alden (wife of MU Director of Athletics Mike Alden) gave him, and I had my story, my final story for the Columbia Missourian.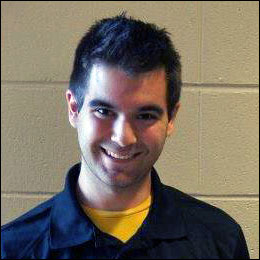 Michael Shaw
Shaw's article, "Missouri Football's Sam Takes One Last Dance," gives readers the history behind Michael Sam's celebratory dances and an inside look at a few final moments from the football standout's college career. The story was published Dec. 24, 2013, in the Missourian. Greg Bowers was the supervising editor on the piece. Shaw is a dual major in print and digital news and economics, with a minor in Spanish. The junior from Fenton, Mo., also contributes to Vox Magazine and the Associated Press Missouri basketball coverage as well as serves as a freelancer for the Jefferson County (Mo.) News-Leader.
"Michael Shaw's piece begins as a glimpse of a high profile football player but quickly goes beyond," judges said of Shaw's piece. "He shows us, in good detail, how things like goofy dances help form relationships among these beefy linemen."
Shaw reflects on his article:
As many know, Michael Sam did not make many media appearances this season. I was fortunate enough to be filling in for Missourian football writers Matt Fairburn and Alex Smith on the MU football beat during the team's first week of practice after their loss in the SEC championship game. Reporters at practice on Tuesday, Dec. 17, were talking to head coach Gary Pinkel when Sam and a Mizzou athletics representative stopped to talk to us. Needless to say, Coach Pinkel didn't need to answer a lot of questions that day.
Although I was filling in for Matt and Alex, I felt comfortable talking to Sam with the rest of the media. Part of this was because of Sam. He came off as extremely thoughtful and intelligent, which seemed to go against the stereotypes of burly defensive linemen. As I talked to Sam's defensive teammates, I realized how big of a character he is in the Missouri locker room. Anecdotes of Sam singing Motown hits during warm-ups and dancing with teammates in the locker room would be useful in a story. I just didn't know what that story would be at the time.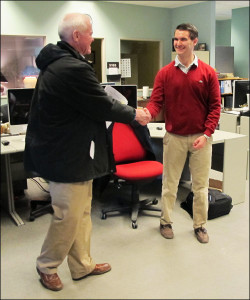 When practice was finished, I went back to the Missourian office and churned out an article about Missouri's defense. I mentioned to my sports editor, Greg Bowers, that I had talked to Michael Sam during practice. He immediately pulled me into his office and asked if Sam had mentioned anything about his sexual orientation. I was aware that Sam had planned to "come out" to the Missourian before the season, but for various reasons he pulled out of the story. The media did not address the topic of Sam's sexual orientation that day, nor would it have been appropriate. I, however, thought there was still a story to be told. I asked Greg to give me a few days to figure out what that story was, and he graciously let me pursue it even after other reporters had written about Sam.
While watching tape of Sam later that night, I was struck by his sack dance when he makes a play. It was eye-catching and unique, but at the same time it reminded me of many other Missouri defensive linemen. Sam mentioned in practice the influence former teammates Aldon Smith and Jacquies Smith had on his career, so I began watching tape of their Missouri days. Sure enough, the two had similar celebrations. This is when I decided to focus on Sam's sack dance.
The final piece of the puzzle came from a photograph taken by Mizzou athletics photographer Ben Walton. The photo shows Sam and Pinkel embracing after Sam's final game at Faurot Field. Ben helped me describe the raw emotion of that scene. Sam and the rest of his teammates would dance in the locker room after the big win, but the image of those two hugging under the tunnel stopped time. Given Sam's rise as a player and his coming out to the Missouri team, I can only imagine what those two said to each other.
On the topic of identity, Sam put it best after coming out: "I knew I was Michael Sam, who's a Mizzou football player who happened to be gay." I hope my story captured a bit of Michael Sam the football player.
Updated: July 22, 2020
Related Stories
Expand All
Collapse All
---