Sam Gause and Megan May Win Dean's Award for Multimedia Features in Mastering the Method Contest
The Competition Recognizes Outstanding Work by Undergraduates
Columbia, Mo. (Dec. 17, 2013) — A story about a 2,600-mile expedition in a kayak and another about a man's emotional recovery after the sudden death of his spouse were the winners of the Dean's Award for multimedia features in the Mastering the Method contest at the Missouri School of Journalism.
The new contest recognizes outstanding work by undergraduates in the areas of broadcast, multimedia, photography and writing. The top two winners in each of the 14 categories receive a $100 gift card.
Gause and May's stories were selected from among 21 entries. Information about their entries and the judges' comments are as follows.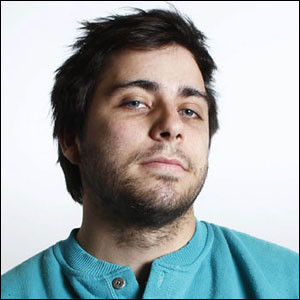 Sam Gause
Gause's article, "Transitions in Flight," was published May 4, 2013, in the Columbia Missourian. The faculty editor was Brian Kratzer. Gause, BJ '13, is working at MLive, his hometown paper in Jackson, Mich. He produced the story while a photojournalism student at the School.
Judges' Comments: Sam tells an intimate story about Marvin Chapman who lost his wife in a car crash. He goes on to find emotional relief and recovery through bird watching. Sam shows the darkness of Marvin's early recovery as Marvin recollects the thoughts and emotions he dealt with after the sudden death.
Sam produced the piece unveiling Marvin's emotional recovery. Sam peels away clues about this man while building him up into someone we can relate to and care about. Creative visuals complement Marvin's insight. Sam introduces Marvin in darkness and mystery, slowly bringing his tale to light. Getting the video and audio while gaining the access to the person and his mind are time-intensive efforts engrained in the documentary effort, and Sam did an excellent job on all fronts. Sam has an enviable nature of being, fitting in and engaging people on a personal level. Working with Sam during the editing process was a fun journey because of the creative visual combinations he creates.
Sam found Marvin one day while enterprising in Staff Photojournalism. The following semester he worked on the video as his multimedia component for the Staff Reporting course.
Gause shares how he came to write his article: I found the subject while out at Eagle Bluffs Conservation Area in southwest Columbia. Marvin was driving around as he does most days, and we got to talking. He told me he doesn't know much about bird watching, but it helps him take his mind off of his wife who died eight years before. As for access, it was not that difficult at first. I was someone for him to hangout with, but it was difficult to get past that. He just wanted to talk to me. Also, I thought it was an important part of the story to go with him when he visited his wife at the cemetery. He does this a couple times a week, but was very weird about me tagging along. It was interesting how during our interviews and when we were hanging out he would tell me anything, but there were still aspects of his life that he didn't want to show. With time and more trust he opened up and allowed me to go with him. For me the key to documentary story telling is time and truth. The most time you can spend with your subject the better and telling your subjects story as truthfully as possible will be cathartic for them as well.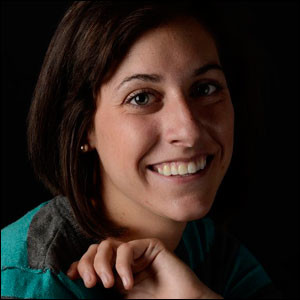 Megan May
May won for "Once in a Blue Moon," which was published May 3, 2013, in the Missourian. The faculty editor was Brian Kratzer. May, BJ '13, from Delafield, Wis., graduated as a dual major in photojournalism and international studies. She produced the story while a student at the School.
Judges' Comments: Janet Moreland's 2,600-mile expedition will take place in Blue Moon, her kayak. Megan sets the stage for why this kayak is so important and helps us get inside Moreland's mind as she works on the kayak and eventually takes it out on the water. But Megan takes this far beyond a process story. Megan creates a beautiful sequence taking us from Moreland's home to the river where Moreland's friends have come to the kayak's christening, then from that celebration to the peacefulness on the Missouri River in a matter of seconds. During that sequence Moreland is telling us several reasons why we should care.
Megan has a great sense about what is visually interesting while understanding what the source is telling her. She sees the world in sequences and is able to use this storytelling method with a deep understanding and expertise.
Megan completed this piece as an independent study on advanced multimedia storytelling.
May shares how she came to write her article: Last year I took a multimedia course producing video stories for the Missourian. One of the benefits of working at the paper was being able to collaborate with people from a variety of departments. During a budget meeting I heard that a reporter was doing a story about a kayaker, Janet Moreland, who was about to travel down the Missouri River from its source. I've done distance kayak trips before and love the outdoors so I was instantly intrigued. I approached the reporter about my ideas, and we worked out how we could combine her article and my video into one cohesive package. Because I was able to work with a journalist from a different discipline, we could rely on each other's strengths while focusing on our own, and together we were able to produce something great.
Updated: July 21, 2020
Related Stories
Expand All
Collapse All
---