Students, Missourian Earn Awards in National Sports Editors Contest
Top 10 Honors Earned in 7 Categories of the Professional Competition
By Caroline Murray
Columbia, Mo. (Feb. 24, 2015) — The Columbia Missourian and its reporters were named to the top 10 in seven categories of the 2014 Associated Press Sports Editors Contest, a competition for professional news outlets nationwide.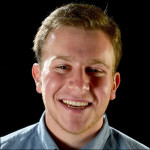 The Missourian competed in Category D, which includes publications with circulations of less than 30,000. The top 5 in each writing category will be announced later this year. The Missourian competes in the under 30,000-circulation category and has won more than four-dozen APSE awards in the past 10 years.
Greg Bowers, sports editor, and Brian Kratzer, director of photography, supervised the winners' work.
Graduate student Mark Selig was recognized both for his columns and for his feature on the 100th anniversary of Hickman High School's unusual mascot, the Kewpie. (100 Years of Kewpies: Hickman High School Embraces Unusual Mascot)
Mitchell Ferman was named to the Top 10 in the breaking news division for his story on Columbia-native Jimmy Whitt choosing to sign with Arkansas's basketball team over Missouri's. (Hickman's Jimmy Whitt Commits to Arkansas: From Decision to Announcement)
Hannah Baldwin was honored in the multimedia division for her project Sidelined, which tells the story of high school football player Jacob Biddle, whose multiple concussions took him out of the game. (Concussions Ended Jacob Biddle's Playing Career; Now They Affect His Everyday Life)
The Missourian was named to the Top 5 in the daily sections and Sunday sections categories from publications with circulations under 15,000. The Missourian also was Top 10 in special sections in the under-30,000 circulation category.
The APSE Contest was judged Feb. 7-11 in Lake Buena Vista, Florida.
About APSE
ASPE, founded in 1974, is based at the Indiana University National Sports Journalism Center. The organization strives to improve professional standards for sports departments of professional news organizations and to recognize excellence among its membership.
Updated: August 4, 2020
Related Stories
Expand All
Collapse All
---