University of Missouri Student Journalists Prepare to Cover Mizzou Tigers at NCAA Tournaments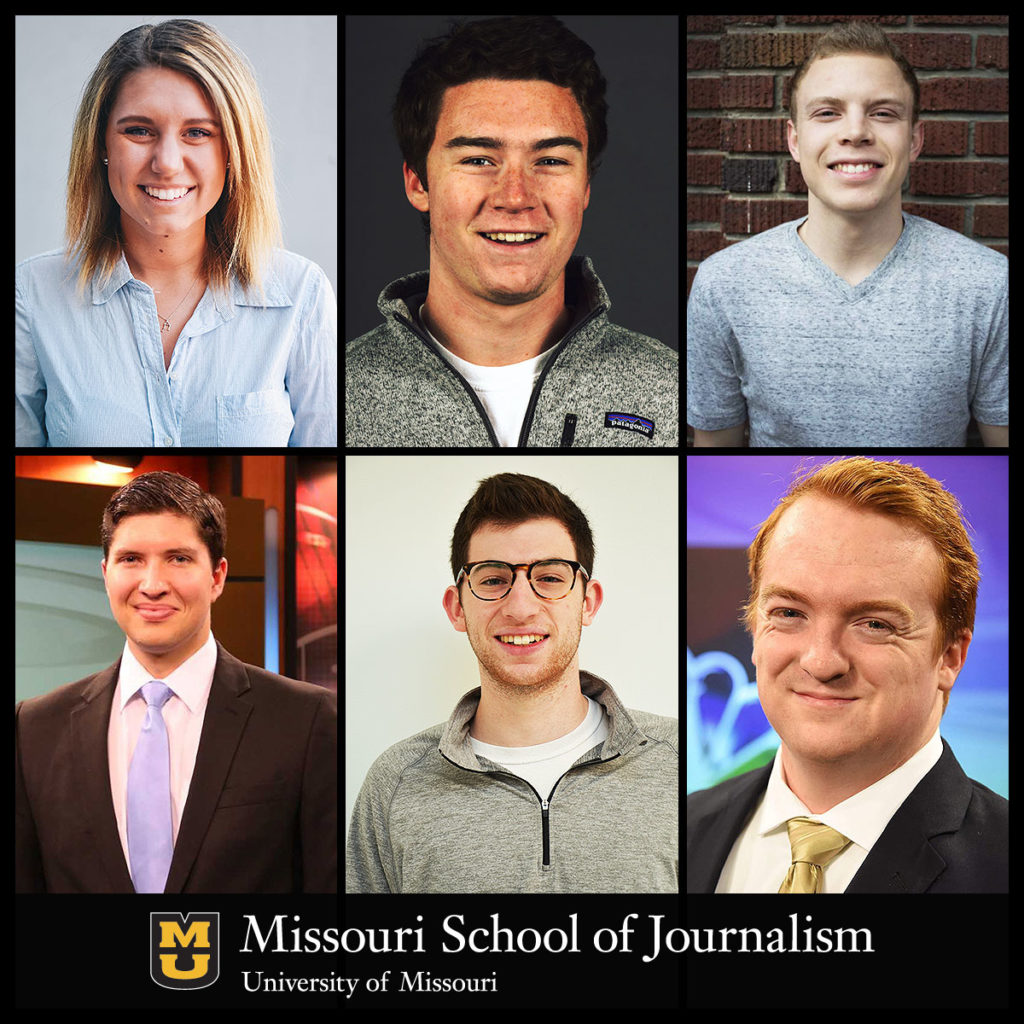 Undergraduate NCAA tournament student reporters include (top row, from left) Hailey Hofer, Will Jarvis and Eric Lee. Bottom row, from left: Kevin Levine, Alec Lewis and Matt Weller.
By Jennifer Nelson
Columbia, Mo. (March 15, 2018) — Months of hard work have paid off for the University of Missouri's basketball teams – and the student journalists who cover them – as the Missouri Tigers advance to post-season play in NCAA tournaments.
Columbia Missourian and KOMU-TV reporters and photographers will drive to Nashville, Tennessee, for the men's game Friday as the eighth-seeded team takes on Florida State University. A Missourian reporter will remotely cover the fifth-seeded women's team Saturday when they face Florida Gulf Coast University in Stanford, California, while KOMU plans to send a full-time staff member to cover the same game.
In addition to reporting on the game, students will attend press conferences and practices, post social media updates and shoot photos of Tiger fans. Junior Eric Lee, a women's basketball reporter, says he'll report on the game either from home or the Missourian newsroom.
Covering basketball tournament games is just one example of the hands-on "Missouri Method" experience students gain while working in Missouri School of Journalism newsrooms.
"This is the type of thing you come to Mizzou to get the opportunity to do," says senior Matt Weller, a KOMU reporter and producer. "I'm hoping…to see a lot of different national reporters who are going to be there and see how they do their job and just try to take a little bit from all of them."
The game will offer plenty of experience, says KOMU Sports Director Chris Gervino. Weller and senior Kevin Levine will file live reports during the station's morning and noon newscasts. They'll take turns broadcasting with Gervino during four evening newscasts.
"We have a lot of newscasts, so there are a lot of chances for them to do good work," says Gervino. "Kevin and Matt have worked really hard, and are eager and certainly able to cover this event."
Senior Hailey Hofer photographed the SEC men's tournament in St. Louis earlier this month for the Columbia Missourian. She says she enjoyed meeting sports journalists whose names and pictures she'd seen in print.
"The people you look up to become your peers," she says. "It pushes you to be better because you're around so many great photographers and so many great sportswriters."
Covering post-season games in an unfamiliar arena and navigating a different city can present new challenges, according to the students. Writing about a game remotely also has its share of challenges, says Lee, the women's basketball reporter. He'll still capture turning points and key plays, he says, but he'll miss out on some of the game's atmosphere and emotion.
Despite the challenges, Missourian Executive Editor Mike Jenner knows the students are well prepared.
"The students at the Missourian have covered MU basketball all season long, and have distinguished themselves on deadline," he says. "They know the teams well and are perfectly prepared to cover them in the post-season."
The men's game will be broadcast on TBS at 8:45 p.m. CDT Friday. The women's game will be broadcast on ESPN2 at 2:30 p.m. CDT Saturday.
Updated: October 30, 2020
Related Stories
Expand All
Collapse All
---