Columbia Missourian Sports Section, Two Students Score Big at APSE
UPDATE April 3, 2008: Junior Andrew Astleford's story "A Question of Acceptance" was ranked third nationally in explanatory reporting in the final rankings of the Associated Press Sports Editors Best of Writing 2007 contest.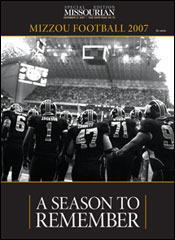 Columbia, Mo. (March 7, 2008) — For the second year in a row, the Columbia Missourian sports desk brought home top awards from the Associated Press Sports Editors (APSE) contest. This year, the paper also added two individual awards to its collection.
APSE named the Missourian as one of the top 20 special sections for "A Season to Remember," a special look back at the Missouri Tigers' 2007 football season and Big XII North conference championship. Missouri Journalism senior Jeff Birnbaum's story "Willy-Mo" was named as one of the top 10 features, and junior Andrew Astleford's story "A Question of Acceptance" was named as one of the top 10 explanatory pieces. The Missourian, a daily city newspaper that serves as a working lab for students, competed in the 40,000 circulation and under division in the contest, which lists winners without order. Stories will be ranked later in the writing contests.
Greg Bowers, assistant professor of newspaper journalism and Columbia Missourian sports editor, said more than 220 papers in the United States competed in the Missourian's category, making the contest fierce.


"It's always nice to have your work recognized," he said. "For the students, to have their work recognized in a contest where they competed against professionals, well, that's particularly nice."
Birnbaum's article featured Missouri Football safety William Moore, more affectionately known as Willy-Mo. The article described the different sides of Moore's life that he doesn't often show as a football player, such as the tuba skills he picked up in high school.
"The article allowed me to build such a strong rapport with Willy," Birnbaum said. "It allowed me to learn information about him that nobody else had really known. It showed me that if I can build that kind of rapport with sources, then I can get that sort of information from them and make them feel comfortable enough to talk about their families and struggles."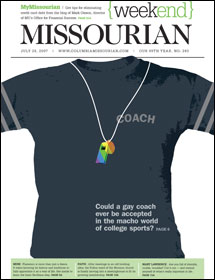 Astleford's article attempted to see if an openly gay male coach could succeed in leading a team of predominantly straight men on a prominent stage. Astleford said the story came about after the dismissal of former Missouri Lacrosse coach Kyle Hawkins became a national story.
"This is easily one of the most rewarding projects I have ever completed," Astleford said.
Birnbaum said winning the award was extremely gratifying and humbling on personal and professional levels.
"My editor isn't one to give out compliments lightly," Birnbaum said. "So when he gave me a handshake, it was the most rewarding part."
Bowers said the APSE awards are a rare collegiate achievement and will help both students in the job hunt.
"I'm very proud of these two guys and also of the team that worked on our special section," he said. "I'm thrilled to see them recognized. When the awards were announced, there were some happy people bouncing around the sports desk."
Updated: April 27, 2020
Related Stories
Expand All
Collapse All
---