Senior Michael Shaw Wins $5,000 Jim Murray Memorial Foundation Scholarship
The Award Recognizes Students Interested in a Sports Writing Career
Columbia, Mo. (Aug. 20, 2014) — Michael Shaw, a Missouri School of Journalism senior, is one of five national winners of the Jim Murray Memorial Foundation scholarship.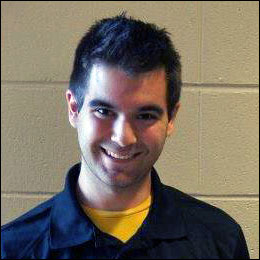 Shaw, a print and digital news major, will receive a $5,000 award and a trip to the Santa Anita Racetrack in California in October. He and the other winners will be recognized, along with Hall of Fame sports columnist Rick Reilly and jockey Joe Talamo.
"Michael shows the kind of academic excellence, writing and other qualities that promise to perpetuate the Jim Murray spirit of journalistic integrity and creativity," said Linda Murray Hofmans, CEO and founder of the Foundation, in an email to Shaw. "I know you will be a marvelous ambassador for the Jim Murray Memorial Foundation just as your fellow University of Missouri Murray Scholars have been over the past 14 years."
Shaw is the fifth Missouri journalism student to win the scholarship, which recognizes students who are interested in a career in journalism, especially sports writing. Andrew Wagaman, BJ '13, won in 2013; Elizabeth Manring, BJ '08, in 2007; Kyle Nagel, BJ '03, in 2001; and Katie Tiernan, BJ '02, in 2000.
Shaw is also studying economics and Spanish at the University of Missouri. This fall he will cover Missouri football games for the Columbia Missourian, the daily city newspaper published by the Missouri School of Journalism. His reporting will include SEC road games. Shaw previously worked for the Associated Press.
A panel of nationally recognized sports journalists judged the winning essays. This marks the 15th year the JMMF awarded scholarships in memory of Pulitzer Prize-winning sportswriter Jim Murray.
Murray was a sportswriter for the Los Angeles Times for more than 30 years. In 1954 Murray became one the founders of Sports Illustrated. He then joined the Los Angeles Times in 1961, and went on to win a Pulitzer Prize for Commentary in 1990. Murray also garnered the National Sportswriter of the Year Award 14 times in his career. Murray's outstanding work landed him a spot in the writers' wing in Cooperstown Baseball Hall of Fame in 1988. He died in 1998, and his wife, Linda McCoy-Murray, established the Jim Murray Memorial Foundation in 1999.
"Michael Shaw is getting better all the time and I think that being named a Murray Scholar validates that," said Greg Bowers, the Missourian's sports editor. "I'm looking forward to seeing what happens next."
Updated: July 30, 2020
Related Stories
Expand All
Collapse All
---