Sports Writing Senior Wins $5,000 Jim Murray Memorial Foundation Scholarship
By Celia Darrough
Columbia, Mo. (Aug. 23, 2012) — Andrew Wagaman, a Missouri School of Journalism senior from Schnecksville, Pa., has been selected as a winner of the Jim Murray Memorial Foundation scholarship.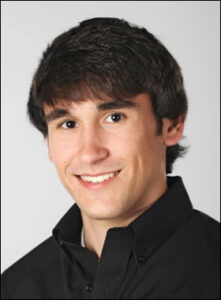 Wagaman, a print and digital journalism major, will receive a $5,000 award and a trip to La Quinta, Calif., for the Jim Murray Memorial Golf Classic. He is the fourth Missouri journalism student to win the scholarship, which recognizes students who are interested in a career in journalism, especially sports writing. Katie Tiernan, BJ '02, won in 2000; Kyle Nagel, BJ '03, in 2001; and Elizabeth Manring, BJ '08, in 2007.
Jim Murray was a sportswriter for the Los Angeles Times for more than 30 years. He died in 1998, and his wife, Linda McCoy-Murray, established the Jim Murray Memorial Foundation in 1999.
"Jim Murray is one of the greatest sports writers ever," Wagaman said. "It's an honor to be selected."
In March, Wagaman wrote an article for the Columbia Missourian on the death of Norris Stevenson, the first black player to accept a football scholarship at the University of Missouri. While reporting the story, Wagaman learned about Mel West, another black football player who started around the same time.
Wagaman began researching West. There was little to no information on the former football player, but he discovered that West had died in 2003. Few of West's former teammates knew what had happened to him, and Wagaman decided to write a story letting people know.
Wagaman wrote his scholarship-winning essay about the reporting of this story, about how he believed West should be remembered as well, and that it was a shame that he wasn't as remembered as Stevenson.
He wants to start his career in sports writing, because he can write stories from different angles, something he said is more interesting than a play-by-play of a game.
"Especially at the student level, when you're first starting out, (sports writing) gives you a lot more opportunities to write those human interest profiles," Wagaman said. "At the Missourian they really push you to do the alternative perspectives."
Greg Bowers, sports editor at the Columbia Missourian, said Wagaman is a good example of practice makes perfect.
"He's more experienced and professional than most students his age," Bowers said. "I'm proud of him and glad to see Missouri back on the list of winners."
Updated: June 10, 2020
Related Stories
Expand All
Collapse All
---