Journalism Students Produce 10-Part Series on Book Challenges in Missouri's Public Schools
The "Unfit to Read" Project Provides Hands-on Experience with Sunshine Requests
Columbia, Mo. (July 25, 2012) — Graduate and undergraduate students enrolled in a Missouri School of Journalism course have produced a 10-part series about book challenges in the state's public schools. The investigative report, recently published in the Columbia Missourian, includes three interactive graphics.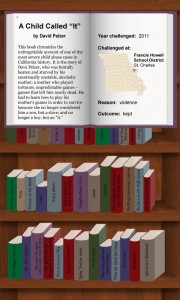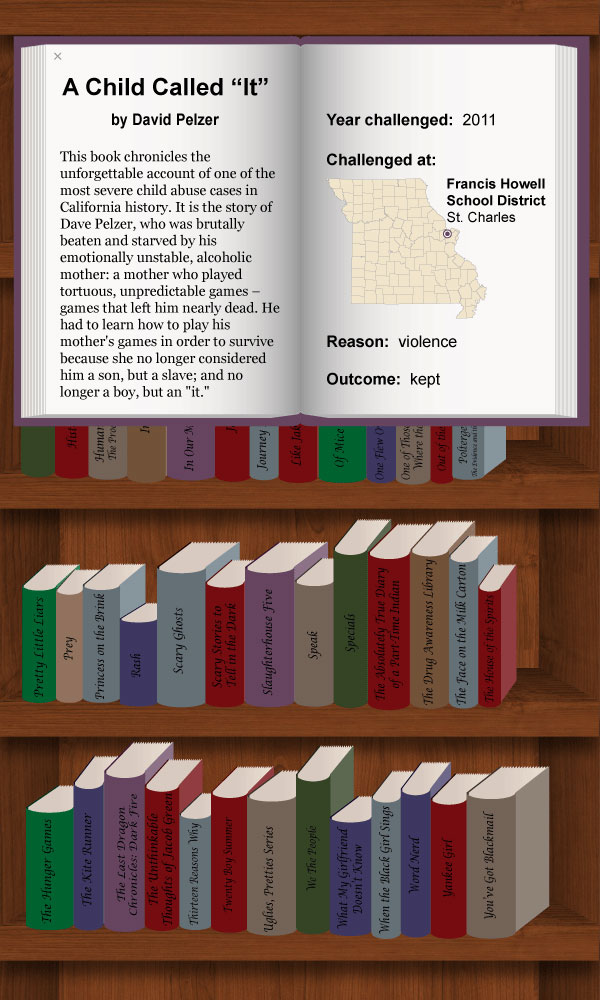 "Unfit to Read" is available in print and online at ColumbiaMissourian.com, a digital-first family of publications that are produced by a team of journalism students and professional editors who also serve as faculty members. The project began as a class assignment in the "Controls of Information" course, which is designed to give a hands-on look at the world of public information and its many uses.
Among the key findings in the "Unfit to Read" series is that getting a book removed from a public school in the state is a long shot. Since 2008, parents, students and others have tried to toss or restrict more than 51 titles from libraries or classrooms in 32 Missouri school districts. Of all of the books challenged, 12 were banned; 11 were restricted in some manner; and 29 challenges were rejected.
Each student in the course oversaw approximately 40 Sunshine, or public record, requests that asked for copies of forms parents fill out when challenging the content of library books in their children's schools. All 566 school districts in the state were contacted.
"Projects like this should remind us all that governments maintain all sorts of records, and it is incumbent upon the news media to retrieve them and make sense of them," said Charles Davis, associate professor who teaches the course. He worked with Missourian and Vox editors to produce the series.
The series includes articles on select book challenges nationwide and in Missouri as well as three interactive graphics.
Introduction
Book challenges run the gamut, both in rationale and result
Sunshine requests for public records of book challenges were sent to all Missouri school districts asking for all correspondence regarding book challenges since Jan. 1, 2008.
By Steven Rich, Chris Derosier, Mengni Yang and Edson C. Tandoc Jr. in the Columbia Missourian.
Books project demonstrates importance of public records in journalism
Davis credits his students' dogged pursuit of information as well as the access to public information our country provides to the project's successful results.
Book Challenges Nationwide
Library association tracks book challenges nationwide
Placed against a national backdrop, Missouri's library book challenges hit many common themes. Nationwide trends have emerged showing who submits the most library book challenges, what they're about and which books take the most heat.
By Mayra Cruz.
Arizona books controversy sparks interest at Kansas City charter school
In an effort to encourage diversity in schools, a Kansas City school district is studying the possibility of specifically teaching the books banned by the Tucson School District in Arizona.
By Tom Pantera.
Digital textbooks add complexity to debates over content
While the tablet and eBooks driving new technologies could provide more interactive, effective teaching materials, politicians and school officials must find new ways to regulate content and the ways students use the technologies available to them.
By Anthony Schick.
Book Challenges in Missouri
Parents challenge controversial books
When Kim Alexander's fifth-grade daughter, Jesseca, brought "The Face on the Milk Carton" home from school, Alexander was disturbed by the tone of the book. She asked Paxton Keeley Elementary School in Columbia to remove it from its library, but the school district decided to keep the book without restrictions.
By Emoke Bebiak and Tom Pantera in Vox magazine.
Districts' policies for book challenges are similar
Appointed committees typically are charged with reading challenged books and determining whether their content is appropriate.
By Ben Richardson and Jonathan Peters.
War-themed 'Hunger Games' poses a difficult choice for parents
"The Hunger Games" was challenged by parents at Jackson Middle School in Jackson, Mo., in 2009. The novel, which contains violent scenes and themes, was ultimately removed from required reading lists at the school, though it remains on the library's shelves.
By Chris Derosier.
Republic schools draw national attention by banning classic novel
Republic High School received national attention in 2010 after banning a book many consider to be an American classic – "Slaughterhouse-Five." The challenger, a business professor at Missouri State University, also requested the school board restrict two other novels.
By Matthew Schacht and Ben Richardson.
Challenges to 'The Kite Runner' spark debate in Camdenton
The widely acclaimed novel "The Kite Runner" spurred controversy and debate among parents and educators at Camdenton High School in 2009 due to a handful of violent and sexually charged scenes scattered throughout the book.
By Charles Minshew.
Interactive Graphics
Three interactive graphics are included in the series. One shows where books were challenged. A second graphic is a database that provides the full documentation of the challenges. The other provides a description of each of the 51 challenged books and the result of the challenges.
By Steven Rich and Nicole Thompson.
Updated: June 9, 2020
Related Stories
Expand All
Collapse All
---