Missouri School of Journalism to Host National Press Club Forum on Journalism's Future and Values
For More Information:
Gil Klein, National Press Club
703-338-2721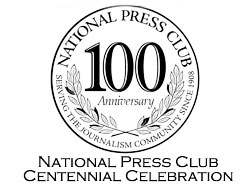 Washington, D.C. (Oct. 21, 2008) — The National Press Club, the world's leading professional organization for journalists, and the Missouri School of Journalism are teaming up to look at the future of the news media and how to protect its core values.
The Monday, Oct. 27 event will begin at 12 noon at the Fred W. Smith Forum, 200 Reynolds Journalism Institute. It is free and open to the public.
This NPC Centennial Forum on The First Amendment, Freedom of the Press and the Future of Journalism will feature leading local journalists:
Charles Davis, director of the National Freedom of Information Coalition and an associate professor of journalism studies;
Jennifer Reeves, an assistant professor of radio-television journalism and a 2008-2009 Reynolds Journalism Institute Fellow;
Tony Messenger, state capital bureau reporter for the St. Louis Post-Dispatch; and
Elizabeth Merrill, a Kansas City-based columnist for ESPN.com.
The panel will be moderated by Gil Klein, a veteran national correspondent, former National Press Club president and director of the Club's Centennial Forums program.
"It is only right that in these tumultuous times for journalism, when both the National Press Club and the Missouri School of Journalism are 100 years old, that the two organizations work together to explore this important topic," said Club president Sylvia Smith.
Dean Mills, dean of the Missouri School of Journalism, said the forum comes at the right time.
"The last century has been full of dramatic changes in the forms and delivery systems of journalism." Mills said. "But today, in the midst of a chaotic technology and business environment, we face the greatest challenge ever to preserving the kind of robust journalism democracies need."
The event begins with a preview of the Club's centennial documentary, "The National Press Club: A Century of Headlines," which follows the history of American journalism through the lens of one of its leading institutions. Everyone who attends this forum will get a copy of the documentary.
This forum is part of a nationwide conversation the National Press Club is holding during its 100th anniversary to look at where the news business is going and what news consumers should be demanding. Schedules and video highlights of forums in other states can be found on the Club's Web site: www.press.org.
The National Press Club is the world's leading professional organization for journalists. Founded in 1908, the Club has 3,700 members representing most major news organizations. Each year, the Club holds more than 2,000 events including news conferences, luncheons and panels, and more than 250,000 guests come through its doors.
The NPC Centennial Forums program is sponsored by Aviva USA, one of the nation's fastest-growing life insurers. In addition, the company is funding the production and distribution of 12,000 DVD copies of the "The Century of Headlines" documentary and supplemental education materials.
Updated: April 30, 2020
Related Stories
Expand All
Collapse All
---